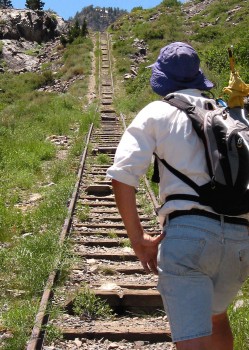 For quite some days, I've been caught in a writers' block. Now, I am a web content writer and writing is my bread and butter. But despite the fact that I felt like writing, and I had quite some ideas to write on, and I felt pretty much capable to write, still I just kept failing at it, failing to put my pen to paper, just like a bird caught under a cast net, who knows and feels he can fly but fails miserably when trying to take off. And there I was, dawdling for weeks and hoping that all of a sudden, the "net" will disappear and I will be able to take to the air … How wrong was I and how wrong is everybody else who thinks procrastinating will somehow put an end to the predicament they are facing.
Problem with dilly-dallying and waiting for the right time is … it never arrives, the time just keeps flying by, and when you are aware that something needs to be done, the passing moments will just keep adding to the pressure, and the mounting pressure will make it even harder for you to do anything about it. And that is exactly what I was going through, and it's not that it was the first time. In fact, the pressure cooker situations are quite frequent since my early years of education, the time when exams or final dates for assignments were fast approaching and I had spent all the time procrastinating and waiting for my geniuses to arrive (and I am still waiting …). These are the times when it gets tougher and tougher as the time pass, and getting depressed doesn't help at all, you know that you've got to do something, but knowing that "I've got to act fast" only adds to the problem.
So what's the best way to break the shackles, and to avoid giving in to the pressure?
To be honest, there's a very easy way out. All you need is to follow two simple steps, first give a damn to the circumstances, and second get down and start doing something about it. Problem with getting bogged down by the circumstances is that you get stuck in the paradigm and get paralyzed. It transpires into a downward spiral and you start to fall short at everything, you fail to do a post on a topic when it's hot, you can't cash in on a trend or platform when it's relatively new, you don't get to pitch your product or services to some potential client you've stumbled upon, the opportunities keep slipping away and it gets even harder to come out of the trap, in spite the fact that most of the times, there's no real trap, it's all between the ears, a decoy that you shouldn't even bother about in the first place.
The take-home point for this post is best described in the old adage …"when the going gets tough, the tough gets going" but what I was looking to add is to stop bothering about the tough goings as soon as you've got down to work, because if you do, the resulting panic will start consuming the much needed energy and time. So, from now on, when the devil throws the "cast net" by reminding you of the circumstances, you can simply dodge it by not giving a damn and continuing with your work.
_______
Author's Bio:
Rahil of www.WeightLossTriumph.com is an Internet Marketing expert and a part time writer. We specializes in reviews of weight loss programs and diet plans. His blog is affiliated with merchants in the diet niche. Part of his marketing strategy involves featuring stories of people who have lost weight successfully and kept it off.