By Diana Gomez
Figuring out how to use social media effectively for your business is a lot like trying to hit a moving target…about the size of a pea, three hundred yards away, from the bow of a skiff in fifteen-foot-high seas. Did I mention that you're also trying to use an unwieldy, twenty-pound harpoon? (You get the picture.)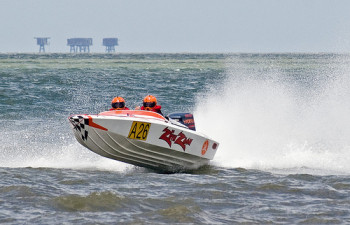 Getting the attention of your target market, let alone followers and regular activity on your social media sites, is one of the biggest challenges in today's marketplace. However, it's not impossible. As with our seafaring harpoon-ist, the best way to hit that target is with practice, patience and a little bit of luck. And with social media marketing, your odds also go up in proportion to your creativity: the more you use, the better chance you have of hitting home.
Remember: It's Social Media, not Sales Media
Before launching any type of social media sales campaign, be sure that you have the following in place: a strong following and a good relationship with your followers and friends.
This may seem like a no-brainer, but a lot of businesses come into the social media world expecting people to start following them simply because they're posting regularly, or that they can launch a campaign the same day they open their social media page and get instant results.
The fact is that social media is just that: social. If you were to walk into a room and hand out business cards, talking only about your business, people would get tired of you pretty quickly. But if you were to engage others, answer their questions, talk a little about yourself and comment on their personal accomplishments, you'd not only be welcome in that social circle, you might also be invited to other, bigger parties.
Social Campaigning
Once you've built up that all-too-important following, it's time to break out the campaign strategies. From Instagram picture challenges to pop quiz prize questions on Facebook, there are potentially thousands of ways you can start actively engaging your customer base. And don't let anyone try to pigeonhole your business by saying a particular social media type isn't "right" for your company. An accounting firm can have just as much fun with a photo challenge as a nail salon. In fact, it might shine an even brighter spotlight on your business when you take a more unconventional campaign route.
Following are several social media campaign ideas, but keep in mind that creativity is the key to standing out in an overcrowded social media market.
Ideally, these suggestions should only be a basis for creating your own innovative spin-off.
Say it like you meme it:Â Random pictures transformed into funny, witty memes is a great way to build connections through shares and likes. And for small businesses, using local references or images can help engage area residents.
Caption captivation:Â Don't have the time to make a meme? Get your friends and followers to do it for you by posting a picture and inviting them to caption it for you. The cuter, funnier or more surprising you can make the image, the better.
Local resource:Â If your small business is located in or near an active community/business hub, take the opportunity to become a go-to resource for local events. No matter your business, if you post regularly about upcoming events in your neighborhood, people will begin to seek you out as a reliable resource. And as an added bonus, your business would likely become known as a strong supporter of the local community.
What we're up to:Â Show off some of your company's personality by sharing family album-type images. Pictures of some regulars who dropped by, renovations, even a picture of you fixing a leaky sink in the break room will make your business feel more relatable and consequently, more engaging.
Pop quiz:Â Everyone knows at least a few random facts for no apparent reason, so why not give them a chance to show off their odd knowledge by posting a pop quiz question? From movie trivia to microbiology, you can pick a question that pertains to your industry or go with something totally random. Either way, it's a great way to build on your following.
Image open invite: This is another one that can work for virtually any business. Invite your followers to post images following a theme – any theme. It doesn't necessarily have to relate to your business, but there are plenty of ways to tie photos in with your line of work. An accounting firm, for example, could welcome pictures of frugal DIY projects (ex: turning old VHS cases into mod picture frames), or a lawn care service could post images of bizarre yard art and invite others to share their own.
Whatever your approach, just remember to keep it creative and relatable. People spend time on social media sites to escape from the business world and to engage with friends and family. By gearing your campaigns more toward the light-hearted and entertaining, you'll eventually be able to expand your social outreach exponentially.
Author's Bio: Diana Gomez is the Marketing Coordinator at Lyoness America, where she is instrumental in the implementation of marketing and social media strategies for USA and Canada. Lyoness is an international shopping community and loyalty rewards program, where businesses and consumers benefit with free membership and money back with every purchase.
Photo Credit: Keith Marshall via Compfight cc