by Guest Writers Suzie Cheel and Des Walsh
The other day, on our morning beach walk, we came across some skilfully sculptured animals in the sand, the work of some anonymous artist. We loved the demonstration of imagination and creativity at play.
We will share these "sandimals" in coming weeks.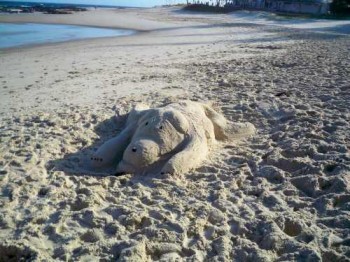 We thought the posture of Fido on the beach, the picture today, was a good reminder of how pleasant – and useful for our sanity – it can be to take time out to do nothing but relax and dream.
For many or most of us it is too easy, in the daily hustle and bustle of business, to become unduly serious and forget the creative power of allowing ourselves to relax and give our imaginations some room to range. And if we did that more often, who knows what brilliance might shine forth?