Twitter Friends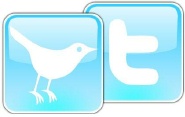 I've been working on a new Twitter presentation for a client that wants the whole team — the whole company — to be part of the conversation. The one I used last was built a while back and Twitter has changed some since then. As I was working on this new presentation new ideas about how the Twitter culture has grown kept coming to me.
They became this simple list and I thought you might find them useful too.
10 Ways to Use Twitter for Small Biz
When you're on Twitter, you might try a few of these ways to add value and extend your relationships …
Curate a small biz reading list that you filter and share links from.

@BeckyMcCray writes Small Biz Survival

Follow the leaders.
@smallbiztrends

@barrymoltz
@TobyDiva
@problogger

Share ideas that have worked for you … or not.

@stacybrice tweeted: i just got my Play Doh from #sobcon hopelessly stuck to a piece of paper.

Talk about what other folks do well.

@johnhaydontweeted: @Veribatim Can @JeffHunt make robots? Have two ever seen "The Iron Giant"?

Share resources when you find them.

GrowMap tweeted: This is the blog post by @designstrike where I found those and many more #dofollow Social Networking sites. http://su.pr/5ggaxe

Retweet what's good.

KennedyIAm tweeted: RT @warrenss: Great collection of "must read" whitepapers for social media & business curated by @123socialmedia http://bit.ly/D3wFU #smwp

Share events and announcements

@roundpeg tweeted: I'm attending Citizen Debate: Healthcare, presented by Smaller Indiana – http://hcdebate.eventbrite…. #indy will you be there?

Find people who share specialized tips, tools, and tricks.

@philrichards tweeted: The Temporary Workplace Rules explained – http://bit.ly/2PTKPW

Talk to people … use the @ sign a lot.

@david_body tweeted: @rubbish That's what the sellers probably thought. (Doesn't mean it's not a good idea.)

Let your personality shine.

@brentleary — tweeted: I always get the scrunchy face when I hear that guitar solo. if anyone ever doubted Prince's skills on the guitar, send them a link to that!
Twitter has a lot in common with small business. It's nimble, quick, and versatile. It takes time to get started. but can reach customers with care.
What's Twitter has that most small businesses don't is a far reaching network at little cash cost. Learn the culture and the lingo, you might find a world of friends and new ideas that make your small business take on that thrill of a new beginning again.
Twitter doesn't just extend relationships, it makes it easy to make new ones. We find new friends, new customers, new people to partner with, new ideas, new channels of feedback. It's an open channel for asking questions about our businesses and learning what others see, experience, and know. A curious learner can gain a wealth of knowledge a generous, experienced person can gain a wealth of followers.
Have you found even other ways that Twitter helps small business? Which work best for you?
I connect things … and people.
–ME "Liz" Strauss
Work with Liz!!