Enneagram Series by Mark McGuinness
Having introduced the Enneagram system of personality types in my last post, I'll now start to describe the individual Enneagram types.
The minimum you need to know about the Enneagram symbol is that it is divided into three parts, representing the three 'centres' or types of intelligence in human beings – emotional, mental and physical. Another way of looking at the three centres is to see them as corresponding to different types of action – relating, thinking and doing.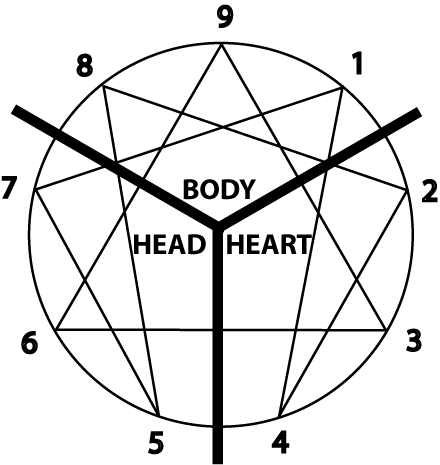 In this post I will outline the three 'Heart' types – Two, Three and Four. These types' strength lies in their emotional intelligence – their ability to relate to others and their own emotions.
It's important to remember that no types are better or worse than the others. Each type has strengths and weaknesses, opportunities and obstacles. And the Enneagram is not about putting people in boxes – we all have the potential to occupy any position on the Enneagram, and in different situations we can take on the characteristics of any of the nine types.
N.B. The names of the Enneagram types given here are not definitive – different teachers use different names, and some just refer to the types by number.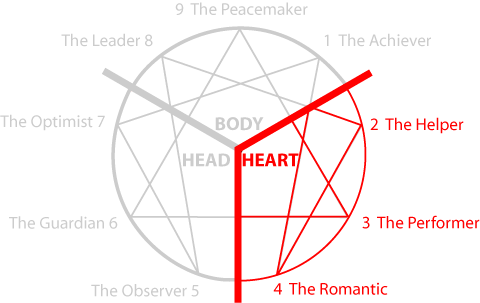 Type Two – The Helper
Type Two is skilled at reading others' emotions in order to understand and meet their needs. Twos take their identity from their ability to help others. Generous to a fault, they can be relied up to step forward and take care of others when needed. Their giving can take many forms – time, attention, energy, experience, influence or money. Problems can arise when they start to give in order to receive something in return – whether material or emotional.
The stereotype of the Two is the kindly old grandmother or self-sacrificing carer, but Twos can also take on the role of the 'power behind the throne' of an influential person.
At their best Twos understand the joy of service. They are happy to give without seeking a reward in return, since making a difference to another's life is what brings them pleasure. They find fulfilment in the act of giving, without clinging to the image of the 'generous person'. There is nothing neurotic in their generosity, since they are wise enough to balance what they give to others with taking care of their own needs.
At their worst Giving becomes a form of manipulation, of making others feel indebted to them and returning the 'favour'. Unable to acknowledge their own needs directly, they use emotional pressure to meet them indirectly, often without realising what they are doing. It is not enough for them to help someone else – they crave praise for their generosity and want to be recognised as a 'special' indispensable person. If they do not get this, they can criticise other and complain of their 'ingratitude'. The dark side of the Helper is the self-appointed Martyr.
We all experience point Two any time we help someone else and experience the pleasure of seeing their face light up with happiness – and maybe a twinge of anticipation to see whether they have noticed our generosity?
Type Three – The Performer
Type Three is skilled at reading others' emotions in order to influence them. Threes take their identity from their ability to win praise and recognition from large numbers of people, or of the most influential people. Because they always have one eye on the public perception of their actions, they become consummate performers at whatever they choose to focus on. Problems can arise when they become so attached to their public persona that they lose touch with their own real feelings and start to deceive both themselves and others.
The stereotype of the Three is the actor, showbiz performer or politician, but they can be found in almost any walk of life – such as the highest-profile manager, doctor, writer, salesperson or fitness instructor.
At their best Threes are the embodiment of excellence. They deliver a wonderful performance in every sense, and their impressive style is backed up by substantial achievement. They experience joy in the performance itself, without undue concern for their public image. They are able to distinguish between reality and illusion, and to balance public adulation with awareness of their own feelings and honest acceptance of their shortcomings.
At their worst Threes are addicted to the limelight and will stop at nothing to bolster their self-image. Cut off from their true feelings, they cling to the external trappings of success and are ruthless with anyone who threatens their position, sometimes resorting to underhand methods to discredit them. To others they look deceptive – all 'spin' and no substance – but they have been believing their own press for so long that they hardly notice the deception. The dark side of the consummate Performer is the plausible Liar.
We all experience point Three any time we perform a task particularly well and receive praise and recognition – and maybe the temptation to play to the crowd and bask in the limelight?
Type Four – The Romantic
Type Fours are highly sensitive to their own emotions, able to introspect deeply and to express these feelings in original ways. Fours take their identity from their sense of being true to themselves and following their own path in life, whatever the prevailing wisdom or fashion. Because of their ability to tap deep wells of emotion, they can create powerful works of art or take unusual and memorable paths through life. Problems arise when their introspection tips over into self-absorption and they start to lose touch with the realities of life around them, including the feelings of others.
The stereotype of the Four is the Romantic artist or poet, but their originality is not always expressed through artistic channels – they can be the black sheep or dark horse with a distinctive approach to any profession or life situation.
At their best Fours can inspire others with their originality and bring a magical, almost otherworldly quality to whatever they do. Whether artists or not, in their work they create something striking and meaningful that resonates deeply with those whom it touches. Instead of being attached to their own feelings, they take pleasure in expressing them and touching others' hearts. They are able to balance self-awareness with a healthy respect for others' feelings and the reality of the world around them.
At their worst they become so absorbed in their inner world that they lose touch with reality and become self-obsessed. Melancholy – never far away – turns into depression and they wallow in negative feelings. They become bitter against a world that 'doesn't understand' them and angrily reject suggestions that they need to take their head out of the clouds and deal with the realities of life. Others see them as self-indulgent and start to lose patience with their negativity. The dark side of the Romantic is the neurotic Depressive.
We all experience point Four when we feel something so strongly that we have a vivid sense of the beauty and preciousness of life, so that no force on earth will persuade us to go against our true feelings – and maybe the temptation to milk the feeling for all its worth?
Questions
Do you recognize yourself in any of these descriptions?
Supposing you met someone who seemed to be at point Two, Three or Four – how could you 'speak their language' to make them feel at ease and relate to them on their own terms?
Part 3 in Enneagram — a Brief Introduction, The Head Types, will appear Thursday at about this same time.
_____________
Mark studied the Enneagram as part of his training as a psychotherapist. He has used it for his own personal development and in his work with individuals, families, and organizations. Mark McGuinness' business Wishful Thinking, is a specialist coaching and training service for creative businesses such as design studios, ad agencies, film and TV production companies, computer games developers, architect's practices and fashion designers.
Thank you, Mark,
–ME "Liz" Strauss
Related:
See the complete series listing at Series: The Enneagram – a Brief Introduction