Which One Gets Your Buy In?

I've been visiting a lot of social media agency websites lately and I've been thinking about how good people are saying one thing and doing another. For example, how many times have you started a conversation with It's important to listen. then proceeding to talk about why, without listening first ourselves?
Take my advice. I'm not using it.
I was visiting websites to find a great example for the keynote I'm working on. What I found is that companies sell products one of three ways.
Let's imagine that execution is a given and that all agencies want to deliver high value to their clients. In other words, let's say that they're all basically offering the same set of pencils in a few different colors, a different package, and with a different experience.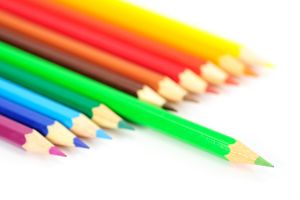 Here's what I found about how most agencies approach communicating what they do — how they sell that pencil and their ability to deliver the best pencil to the client.
Traditional Transactional Selling
Critical Mass cuts to the chase by answering the question of how to get customers to experience something they have to taste. They underscore their strength in application building and getting to the solution.
We knew that to truly appreciate Budweiser American Ale, you had to taste it — not an option online. The solution? Drive people offline. Our "Alefinder" app guided people to the closest American Ale, and closing the site (literally) for an hour every day, created the perfect window of opportunity to go get some. Cheers!
Critical Mass does a beautiful job of explaining their qualifications and experience. That's information that new clients surely want to know. I can't argue with that. [ I do find this ambiguous phrase closing the site (literally) for an hour every day from the quote above and others on the site show a struggle with seeing things through other eyes.]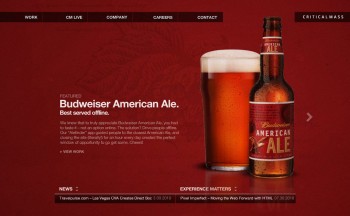 That's traditional transactional selling — features and benefits. Sell a pencil by explaining the specs and why your pencil is better. No matter how creative you get with the words, in the end you're talking about how good you are at making pencils. You win clients who are fans of the best pencils.
Selling Through Prestiqe, Reputation, and Narrative
Sapient, which bnet called the Top of the Top 50 Interactive Agencies starts with story. They explain how their unique experience has given them one-of-kind abilities.
The same customers, and the very same technology, that are now responsible for the dynamic, consumer centric business world in which we live.

A world that most businesses are neither prepared for nor equipped to address.
Sapient does a beautiful job of using narrative to pull back the curtain, reveal something about their values, and defining themselves in a category of one. That last sentence in the quote raises them above the competition. The want elite clients who value prestige.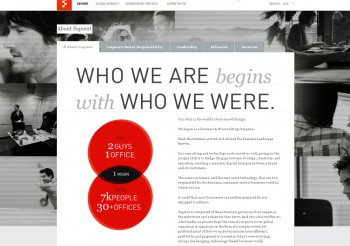 That's selling though reputation and narrative — features and benefits are expected. Sell a pencil by explaining why your pencil will be the Stradivarius, because it will be made by people with unique pencil-making skills who transform pencils into art. In the end, the story is still your story and you win clients who value the prestige.
Selling to Attract with Fiercely Loyal Fans
Brains on Fire changes the game entirely — connecting and demonstrating what they do. They talk to the client about creating fans not customers, not about themselves. Everything they discuss is in context of how they serve the mission of creating fans. The site is written with the personal pronoun "you" — something missing from most others.
Before people can evangelize for you, they have to identify with your cause. So we help create and articulate that identity. A place of belonging that's bigger than themselves. A shared sense of purpose that lifts people up and celebrates and validates their beliefs.

And believe us, it's not about influence, because influencers can be MADE. But passion can't. And it's not about evangelizing your brand.
Brains on Fire does a beautiful job of demonstrating that they believe in and have achieved a culture that thrives on building communities of fiercely loyal fans.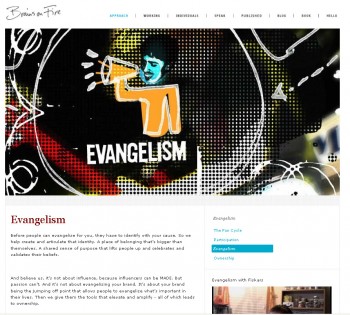 That's selling to build community and attract fiercely loyal fans. Execution and hard work are straight out stated as expected. The usual buzzwords — such as influencer — are pulled out and revealed as what they are. It's the communities that are featured in the work not the agency. Sell a pencil by making heroes of the people who use your pencils. Feature their fabulous mathematical equations, poetry, art, writing and invite them to celebrate the role your pencil have played in making their lives easier, smarter, faster, and more meaningful. Invite them to swap stories and strategies for making pencils last longer and work better for them. Let them personalize and customize the pencils in ways that let them own your brand.
From the beginning, it's been about the client and their fans. Fiercely loyal fans understand what it takes to attract fiercely loyal fans.
Who do you see that does a great job of selling a pencil in a way that attracts fiercely loyal fans?
–ME "Liz" Strauss
Work with Liz on your business!!
I'm a proud affiliate of