Enneagram Series by Mark McGuinness
Having introduced the three Enneagram Head types in my last post, I'll now move on to the three doing or 'Body' types.
The minimum you need to know about the Enneagram symbol is that it is divided into three parts, representing the three 'centres' or types of intelligence in human beings – emotional, mental and physical. Another way of looking at the three centres is to see them as corresponding to different types of action – relating, thinking and doing.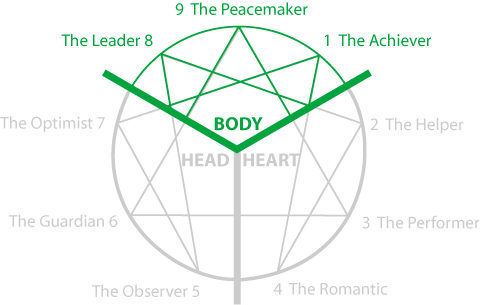 In this post I will outline the three 'Body' types – types Eight, Nine and One. These types' strength lies in their instinctive intelligence – their ability to tune into their 'gut feeling' about people and situations, to commit to action and to see it through with grit and determination.
It's important to remember that no types are better or worse than the others. Each type has strengths and weaknesses, opportunities and obstacles. And the Enneagram is not about putting people in boxes – we all have the potential to occupy any position on the Enneagram, and in different situations we can take on the characteristics of any of the nine types.
Type Eight – The Leader
Type Eight is a powerful presence, full of physical vigour, who is not afraid to take the lead and act decisively. Eights see themselves as leaders and pillars of strength, with a duty to guide and protect weaker individuals. Because of their confidence in themselves and their judgment, they have no hesitation in placing themselves 'in the firing line' for the good of the group. Problems arise when power becomes an end instead of a means, and they focus more on maintaining the status of leadership than on discharging its responsibilities.
The stereotype of the Eight is the military general or political leader, but they can be found in any situation where leadership and decisive action is called for, such as at work, in the home or on the sports field.
At their best Eights are noble, almost heroic figures, offering leadership when it is most needed and putting themselves on the line in the service of justice. Their strength is used to protect and serve others, and they have a reputation for fairness and mercy. Because they are focused on others more than themselves, their instinctive judgments rarely lead to errors. They are able to distinguish between right and wrong applications of power, and to balance public status with personal humility.
At their worst Eights become intoxicated with power and more concerned with fighting off challengers than on serving the group. They wield their strength indiscriminately and can take sadistic pleasure in making weaker individuals squirm. Their instinctive judgment is clouded by self-interest, so that they are likely to pick the wrong targets and lash out without provocation. The dark side of the Leader is the intimidating Bully.
We all experience point Eight any time we assume a position of leadership and find ourselves taking decisive action (sometimes to our own surprise) – and maybe feel a twinge of pleasure when we see others defer to us?
Type Nine – The Peacemaker
Type Nine's instinctive intelligence enables him or her to tune into the dynamics of a group and intervene to promote harmony and balance. Nines come across as nice people, willing to adapt to others and accommodate their needs. Because of their ability to blend with a group, they can sometimes seem to merge into the background and do not always receive due credit for their influence. Problems arise when their habitual focus on the group leads them to neglect their own needs and to hesitate when decisive action is called for.
The stereotype of the Nine is the mediator or the elderly grandmother who is only concerned that everyone will get on and be nice to each other, but Nines are found in any situation where balance and harmony are required. In spite of their retiring temperament, this can make them excellent leaders.
At their best Nines are aware of their influence and are not afraid to intervene to promote harmony – even if that means a few sharp words are in order. They understand that many things are important in life, but none so much as being at peace with yourself and with others. This is the message they convey to others, sometimes explicitly, but more often implicitly, in the way they conduct themselves and their relationships. And they are wise enough to balance the interests of the group with speaking up for their own needs.
At their worst Nines are anxious to keep the peace at any cost, and will play the part of the 'nice person' even while seething with a sense of injustice. They mistake a calm exterior and cordiality for real peace and accord. This means they fail to speak up or take action when it is called for, so that problems fester and important issues are neglected. They are easily distracted and can fritter away days or weeks by zoning out in their 'uncomfortable comfort zone'. The dark side of the Peacemaker is the anxious Placater.
We all experience point Nine any time we recognise the futility of a conflict and intervene to restore peace and mutual understanding – and maybe when we know an issue needs to be raised, but are afraid to rock the boat?
Type One – The Achiever
Type One's physical drive is channelled into a sense of mission, of something important that needs to be achieved and which may require sacrifices. Ones identify with their sense of purpose and feel the need to measure themselves and others against a set of high standards. They have a deep-seated sense of justice and fairness, and will not hesitate to speak up if they feel these values are being flouted. Problems arise when they become more concerned with rules and standards than with relating to fallible human beings – themselves included.
The stereotype of the One is the exacting teacher or dogmatic cleric, but Ones are found in any situation where high standards are required – whether as performers or examiners.
At their best Ones are exemplars of purpose and efficiency, working tirelessly to achieve a worthwhile goal. They are idealists in pursuit of perfection – if they don't reach it, it won't be for want of trying! Because they aim high, they often achieve more than was thought possible – and they are realistic enough to accept that they will never get everything 100% right. They are wise enough to recognise that rules are means and not ends, and to accept the flaws in themselves and in others.
At their worst Ones become obsessed with the 'right way' to do things and refuse to give themselves or anyone else any peace until conformity is achieved. High standards give birth to a harsh 'inner critic' with which they constantly berate themselves for their failings, so that they constantly feel guilty and irritable. Not content with making their own lives a misery, they insist that others conform to their rules, with dogmatic pronouncements and even violent 'punishment'. The dark side of the Achiever is the merciless Critic.
We all experience point One whenever we push ourselves to raise our performance and achieve something we believe is worthwhile – and maybe start to think the world would be a better place if only other people made a similar effort?
Questions
Do you recognize yourself in any of these descriptions?
Do you know anyone who seems to be at point Eight, Nine or One? If so, what's the most likeable thing about them?
Now that you've read descriptions of all nine points, can you think of any bloggers whose blogs exemplify the best qualities of any one of the points?
Part 5. Using the Enneagram – Working on Yourself in Enneagram — a Brief Introduction will appear Wednesday, July 4, at about this same time.
_____________
Mark studied the Enneagram as part of his training as a psychotherapist. He has used it for his own personal development and in his work with individuals, families, and organizations. Mark McGuinness' business Wishful Thinking, is a specialist coaching and training service for creative businesses such as design studios, ad agencies, film and TV production companies, computer games developers, architect's practices and fashion designers.
Thank you, Mark,
–ME "Liz" Strauss
Related:
See the complete series listing at Series: The Enneagram – a Brief Introduction