by Patty Azzarello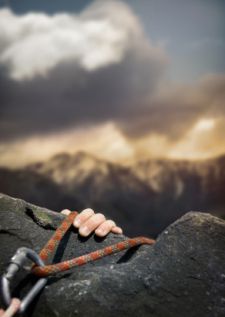 Building your career without mentors is like climbing Mt. Everest without a guide and a Sherpa.  Sure, you can attempt it but why would you?
Mentors can have a bigger impact on your success than virtually anything outside your own efforts.
If you rely on your personal talents and energy alone, you are at an extreme disadvantage to those that get help.
We all need mentors that help with:

1. Imagination
2. Reality
3. Connections
4. Learning
1. Imagination
Where do you get your ideas? Who challenges your thinking in a positive way? Big imagination is required to do your job in a stand-out way. What fuels your imagination?
Most of my biggest successes have started from other people's ideas, challenges or inspiration. Whether it's how you solve problems, or create new opportunities, you can't do it if you never think of it!
Mentors can help a lot, because they typically have a very different perspective.
To fuel your imagination, look for mentors who:
Are 2-3 phases ahead of you in the maturity of how your job function is done.  This can be in a bigger company or a more established business or product line. It's critical to realize what is possible.
Work at an order of magnitude bigger scope or geography – learn processes and techniques they use that help them do a bigger job, so you can apply those as your business grows.  Learning things from a much smaller company can also be really useful.
Do your job in different industries – a Ford employee got the idea for the assembly line by visiting a butchery.  Seeing how other industries solve the same problems can help you see completely different ways of doing things which are huge innovations when applied in your world.
2. Reality
It's easy to get so tied up in what you are doing, that you can lose sight of the reality of changing attidudes, business conditions, or market landscape.? ?So look for mentors who are:
10-15 years older and way ahead of you career-wise – they can help you see the things you are not seeing, navigate the land mines, work through unspoken rules, and point out opportunities to change the game that you might not see on your own.
In their 20's and are a master at the web and social networking – you need keep up with how the world is communicating.  Don't get left in the dark ages of email.  Know how to share information and engage your customers.
Talented business people in other functions – you get ideas not only for general leadership techniques, but "man on the street" insights about how  people in other areas view what makes your function successful.
3. Connections
Look for mentors who are In the job you aspire to.  It is important to really learn about the job you want before you go for it.  Having a mentor in that role can expose you to the real requirements, so you can practice thinking about it, or maybe even take on some projects to get real experience.
They also give you acccess to jobs like theirs when they come up, because being in that role, they get asked who to consider – and they think of you!
Also,
You are most vulnerable when you are not connected. You have less ability to execute if you do not have a strong network. Sure, you need to be building your personal network directly, but mentors can expand your personal and professional network exponentially; not just in terms of size but of usefulness.
4. Learning
Finally, you can't have too many smart people in your life.
Spending time with people you learn from is a big part of creating success.
What are your personal learning goals? What learning agendas do you have for your organization? What do you want to be better at next year than you are now? How do you plan to get there?
Whenever you find someone you can learn from, create a reason to spend time with them.  Learn what they think. Bring them into your staff meetings as special guest stars.
Getting Mentors
Don't get hung up on the term "mentor".  Just buying a coffee for someone you can learn from, and getting the benefit of their time is the important part.
However, if you can formalize it to the extent that you both acknowledge that they care about your success over time, the benefits multiply. So, when you come across a relationship with a potential mentor that sparks, close the deal!? ?Check list:
Do you have your 5 mentors??
1.   Someone in the job you aspire to?
2.   Someone doing your job at larger scope or maturity, or in a different industry
3.   A twenty-something, web 2.0 guru
4.   A master networker
5.   A career guide 15 years your senior
Useful Goals:
You should have a goal of adding at least one real mentor to your life every year, and learning stuff from one really smart person once a month. How do you connect with mentors? Leave your ideas in the comment box below!
—–
Patty Azzarello is an executive, author, speaker and CEO-advior. She works with executives where leadership and business challenges meet. Patty has held leadership roles in General Management, Marketing, Software Product Development and Sales, and has been successful in running large and small businesses. She writes at Patty Azzarello's Business Leadership Blog. You'll find her on Twitter as @PattyAzzarello
Successful-Blog is proud affiliate of