Job Anxiety Is Real–and It's Global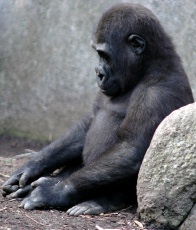 These are not normal times. Two changes in the past decade have produced a huge global oversupply of labor and intense competition for an expanding array of jobs. First, the Cold War's end threw millions of workers, who formerly produced only for the socialist bloc, onto the global labor market. And second, that market has become integrated by technological change that now permits outsourcing of service as well as manufacturing jobs. Carnegie Endowment
As if we didn't know that.
And it has some of us worried. Who doesn't need to eat tomorrow or pay the rent?
Worrying doesn't bring anything to build new business. Waiting for the other shoe to drop doesn't build confidence. It doesn't matter if we're working in an office or working for ourselves, letting the bad news stop our progress will only make things worse.
Taking action and putting both feet in the game with all we've got is the way to make it though hard economic times.
5 Ways to Survive Hard Times Without Ending Up Unemployed
During hard economic times, people turn inward, we want to take care of our own worries and our own spaces. We tend to have less money, less time, and less energy to socialize. Here are 5 ways to stay a productive part of the environment in which you work.
Pay attention. When people are worried or stressed, they are more easily offended and set off balance. If you notice them and their concerns, you'll be a source of support rather than an irritant.

Be adaptable. Change often comes with trying times. Be someone who moves easily through change. Help keep things stable for the culture to realign. Notice the vision that your managers or clients are espousing. Don't try to teach them how to think. Learn about what makes them tick.

Be beginner every day. Show up and be present as if you're starting your first week of work. Keep interested and interesting. Be anxious to take your boss' or your clients' advice. Now's a great time to learn knew skills with enthusiasm.

Be aware. Explore your own anxiety. Don't dismiss it. Know what it's about and determine whether your concerns are real.

Be realistic. Compare the current situation with your past. Do you see patterns that match others? Is it time to break out a resume or start looking for new clients? Sometimes it's good to just go.
When times are tough the first place people look to save money are points of pain and points of redundant or superfulous spending. It's as simple as that.
And if you find your life has a new job in the future. . . .
Be creative and don't forget to ask for help.
How do you stay focused and productive in hard economic times?
–ME "Liz" Strauss
Work with Liz!!