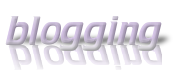 I am a writer. If you stood over me while I type at my computer, you would wonder how anything discernable is going to come from what you see. I don't normally write from sentence to sentence and then follow up by writing one paragraph after another in sequential order. My mind processes information in a somewhat scattered manner.
The mess going on in mind has to be sorted, processed and regurgitated in an intelligible way. That means, I think of a thought and type it. That sentence, paragraph or even single word might get moved all around my blog post before it finds a home.
I start a sentence, and sometimes I finish it. (This sentence happened to be the second sentence of this post, and I think it's going to stay here now). I like to attribute this writing style to my journalism background. When you write for the newspaper on deadline and you're sorting through notes and remembering key ideas in all sorts of orders, you realize that you better get what you know on paper fast. Organize later.
I've maintained that style when I blog.
Writing with a template
This was new to me. I recently purchased an e-book that actually was about building AdSense websites, and the author spoke about using a template to write articles. I appreciated these simple template ideas, like Q and A's, Myths vs. Facts and 10 (or whatever number) Reasons For Something. I said to myself, I'm going to do this. It will make writing much easier.
About two or three articles into it, I totally forgot about the templates and went back to my old ways. I'm not cut out for templates. (Ha, pun).
For people who aren't much for writing or who have a difficult time coming up with ideas, I find templates to be a fabulous spring board. You fill in the blanks and voila. You have a well-thought-out, organized, helpful blog post.
Some possible template ideas that I've noticed on other blogs using, besides the ones I listed above, are:
Tutorial.

A step-by-step guide of what to do.
The interview.

You ask questions, and someone important answers.
Pros and cons.

You say what is good and what is bad about a certain issue.

You take a side, or you don't.
Review.

You review a product, service or other website in your niche.

You review your own blog.

A blend.

Blend some of the template ideas I listed here.

For instance, write a review based on a pros and cons list.
Still not for me
Writing against a template is not for me. I feel like my freedom of expression is inhibited in a cookie cutter post. I can definitely see how a template would be beneficial to people who do not like to write or struggle with what to write about. But for those of us that just want to get our thoughts on the page, we don't do it.
I guess it's more of a matter of order. I put writing first and organization second. A template writer puts organization first and writing second.
One is not better than the other. Templates are for some, and free writing is for others. Which do you prefer?
—-
Terez Howard operates TheWriteBloggers, a professional blogging service which builds clients' authority status and net visibility.  She has written informative pieces for newspapers, online magazines and blogs, both big and small.  She regularly blogs at Freelance Writing Mamas . You'll find her on Twitter @thewriteblogger
Thanks, Terez!
–ME "Liz" Strauss
Work with Liz on your business!!
I'm a proud affiliate of