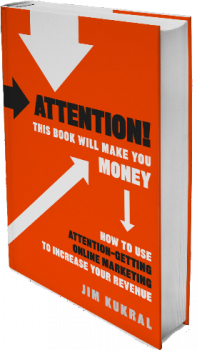 ATTENTION! Jim Kukral's Book will make you money! One month ago today, Jim Kukral's groundbreaking book officially launched and if you've not read it yet, what are you waiting for?
Attention marketing is all about attracting attention to your business and your brand — in such a way that you turn that attention into revenue. And that's what the new book, "Attention! This Book Will Make You Money" is about. — Anita Campbell, Small Business Trends, August 14, 2010
The books opens with a challenge and a genuine opportunity to work with Jim himself … all you have to do is get Jim's Attention!t Then every page after delivers on ways that a thinking small business can get the right kind of attention in a marketplace where attention is everything.
I'm delighted to share this guest post by Jim Kukral, the man who wrote the book on Attention!
Customer Evangelists Rule
by Jim Kukral
If you're like me you're a super fan of a select few things, which makes us both customer evangelists. Being a customer evangelist, or as some call them, super fans, means that you go out of your way to tell other people about the things you love so much. It's a business's wet dream to have a rabid fan base of proactive promoters out there spreading the word about you. Or at least it should be.
Assuming you want to be an evangelist for something you love, be wary before you set out on your journey to tell the world. It can be tricky navigating between short-sighted corporate executives who have no vision or tolerance for exuberant customer evangelists and your vision for how you'd like to promote their product. I've personally dealt with this situation, having become a vigilant fan of a major hosting company. I went as far as to spend an enormous amount of time and effort and money working on a video commercial to promote the company, only to get contacted by the company's legal representation telling me "you can't do that", in so many boring legal words. Ugh. I guess I should have asked them if I could say how awesome they were before I did it, right?
Smart businesses embrace their customer evangelists and help them by first acknowledging them and then second by providing them tools to help them spread the word. I'm an evangelist for a dietary supplement called JoeBees. It's bee-pollen that comes in capsules that give me tons of energy (I don't drink caffeine), better digestion, and helps me sleep like a zombie on NyQuil. I love this product, and I will take every opportunity to tell the rest of the world about it whenever I can, and I do. Joe B., the owner of JoeBees.com, gets this and has personally reached out to me to help me in my quest to promote his product, often sending me free samples to give away and personally phoning me multiple times to just say thanks.
What a concept! Let me ask you this. When was the last time you picked up the phone and called your best customers or fans? You don't know who those people are? It's time to find out, and find out fast. If done right, before you know it you can have your own group of customer evangelists out there preaching to the world about you. Or, maybe you'd just like continue spending more and more money on advertising?
Being an evangelist means you want to tell people about what you love. It makes you feel good to do so.
That's probably what most marketers don't realize about the power of word of mouth and customer evangelism. It's not about "getting something in return"; it's about sharing. It's about making ourselves feel good by helping others, and a little bit about our ego. The challenge for you is to tap into that feeling from your biggest fans and help perpetuate it.
———
For over 15-years, Jim Kukral has helped small businesses and large companies like Fedex, Sherwin Williams, Ernst & Young and Progressive Auto Insurance understand how find success on the Web. Jim is the author of the book, "Attention! This Book Will Make You Money", as well as a professional speaker, blogger and Web business consultant. Find out more by visiting www.JimKukral.com. You can also follow Jim on Twitter @JimKukral.
Get Jim's book and get some attention!
–ME "Liz" Strauss
Work with Liz on your business!!
I'm a proud affiliate of