Hey, Brett, How Can We Change the World?
One young man graduated college a year ago. He interviewed and found a job in a corporation. He worked one year in which he came to understand that his passion wasn't waiting at the desk he occupied every day. This young man looked back on his leaving college interviews.
In those interview rooms, the young man remembered the other recent grads he saw waiting their turn. He realized that they — like himself — had been taking the "natural next step" on a career path. He had a conversation with two friends who agreed that something was wrong for people to be starting their careers that way.
The young man's name is Brett. Brett believes people leaving college should be pursuing their passion not a job . . . Brett sees that as his way to change the world in a positive way.
Pursue the Passion
Guest Writer: Brett Farmiloe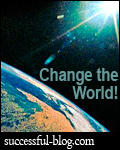 This post has nothing to do with the lessons taught by Guy Kawasaki. There will be no Babyface lyrics in this article. It's about how I, Brett Farmiloe, a recent college grad and your latest corporate dropout, want to do something important, something that matters.
Will you help me change the world in a positive way?
Let me clarify what changing the world means to me. I don't have the skills to find an end to world hunger, to move nations toward world peace, or to fight for freedom. Yet I have experience and skills that can make a significant difference. My idea of changing the world is tapping into a powerful, yet largely ignored natural resource — passion — the passion of people who do what they love.
The greatest ideas, effort, and productivity come from people who are propelled by passion. The world certainly needs more of these.
Yet the model we're living is not designed to produce passion. It leads us down well-traveled career paths of 8 to 6 jobs that promise bonuses, promotions, and job stability. The model does not place importance on an individual's love has for the work, but on the quantifiable measurements an individual brings.
I'm not buying that model.
One month ago, I left a corporate accounting position to continue a project I started in school. The project, Pursue the Passion, challenges individuals to find their life passion. The project began when two friends and I interviewed professionals about their career paths in hopes that we would find our own passion.
What happened along our journey is that I didn't discover a passion. I developed many. I also found that an overwhelming majority of people have a passion. They just don't know how or where to start making it the center of their life. Collectively, these reasons have led me to leave the security of a cubicle, to adopt a new lifestyle, and to pursue my passion with all I am.
Here's how that looks.
In one month, my two friends and I will be couch surfing America to interview 200 people who love their work. We are traveling 14,000 miles in 90 days to uncover career paths people have paved. We'll be talking, listening, and taking notes and videotaping so others can benefit from the interviews — the wisdom of the people we meet, their triumphs, the mistakes they share, and their lessons learned.
Would you help us make that tour the most it can be?
We need exceptional people to talk to. We need couches to crash on. We need your input on what prevents people from pursuing their passion and what motivates them to take the leap. We want to have lunch with you. We need your advice. We want to spread the message of our tour throughout this great nation, so that Americans will begin to take baby steps towards positive change.
Would you take a moment to leave a comment with any advice or help you might have to offer us? We'd be grateful. Let us know you are passionate too!
Brett Farmiloe, Pursue the Passion.
Thank you, Brett, for living your message. We're a passionate group here.
Help is on the way.
We can change the world — just like that.
–ME "Liz" Strauss