See the Joy of Learning!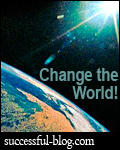 Ah, how we're all waiting for spring time. I remember how I used to wait to break out my bike for that first bike ride. Even before the streets were quite clean and ready, I'd be watching for just enough sunshine.
For some reason, I needed the sun to fuel my feet so that I could push the pedals.
When it finally came I'd be off exploring, learning, becoming — filled with the joy of living. I start asking whether I could help the neighbor lady pull dandelions or whether sweeping her walk might be a good thing.
Even as a children, we seem to know that the best way to learn is to jump in and participate. And good things would always happen, when I gave a little to a cool project. Thing was that I had to go out to find them after a long winter hibernation.
The payments were good feelings, learning, smiles, and joy.
Joy is still a word well worth sharing. Go get some by giving some away.
We can change the world — just like that.
–ME "Liz" Strauss