Todd Hoskins Reviews Tools for Small Business
Todd Hoskins chooses and uses tools and products that could belong in a small business toolkit. He'll be checking out how useful they are to folks who would be their customers in a form that's consistent and relevant.
Pick Your Client, Any Client by
Todd Hoskins
Although Twitter has worked hard to improve the user interface at twitter.com, it is worth the time to choose a client for your desktop and mobile use. Like Microsoft Outlook or Thunderbird seeks (and often fails) to improve email productivity, Twitter clients offer more tools and a better user experience.
The most popular desktop clients are TweetDeck, HootSuite, and Seesmic. Some of he most popular mobile clients include Tweetie (iPhone), Echofon (iPhone), Twidroid (Android), and UberTwitter (Blackberry). Increasingly, developers of desktop applications are making mobile apps as well and vice versa.
I currently use none of the above. For my small business purposes, I chose Brizzly for desktop and Twikini for my Windows Mobile device. I would prefer to avoid the topic of Windows Mobile 6 (and my wireless contract), so let's look at desktop web applications.
Brizzly is a browser-based application, which means there is nothing to install. The app has a clean interface with inline maps, photos, and video. With embedded media, infinite scrolling, and auto refresh, my stream requires very little clicking. It's all there when I "dip in" for a bit.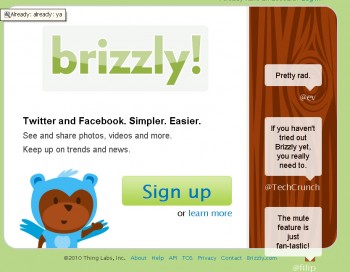 Importantly, applications like Brizzly allow you to handle multiple handles or accounts at once. This is where the difference of needs between applications for the enterprise and smaller businesses becomes most pronounced. An enterprise may need the ability to elevate, forward, share, or archive a tweet or conversation. There are fee-based applications for this. An individual user may be perfectly satisfied with twitter.com. For small businesses there are good free options in between.
I need to be able to find the relevant people and conversations and participate seamlessly without logging out and logging in of accounts. Saved searches, easily accessible bios, and a well-designed user experience are essential to me. Brizzly does this well.
Brizzly could improve with better management of contacts and followers (Seesmic's latest version is impressive on this front). As customer service becomes more commonplace on Twitter for all sizes of companies, Brizzly may need to conservatively add CRM features. Let's hope they stick with simplicity.
Summing Up – Is it worth it?
Enterprise Value: 1/5 – try CoTweet, PeopleBrowsr, or HootSuite
Entrepreneur Value: 4/5 – new iPhone application as well
Personal Value: 4/5 – also integrates with Facebook
—-
Thanks, Todd! You can find Todd on Twitter @ToddHoskins
Which clients do you use? What would it take you to try a new one?
–ME "Liz" Strauss
Work with Liz on your business!!
Register Now!! for