Todd Hoskins Reviews Tools for Small Business
Todd Hoskins chooses and uses tools and products that could belong in a small business toolkit. He'll be checking out how useful they are to folks who would be their customers in a form that's consistent and relevant.
Cool Tool Review: Expensify
A Review by Todd Hoskins
I have a shoebox of receipts, and a file folder for business expenses. How often do I spend time rummaging through the box for lost receipts? I'm embarrassed to admit.
Pain and expense reporting go hand in hand. The scanning, the spreadsheets, the documentation, the mileage log . . . you get the idea. Expensify completely changes this experience from painful to painless (and paperless to boot).
Imagine this . . . you get an email receipt from a hotel or airline and you forward it to an address that automatically uploads a copy awaiting your categorization (think TripIt). Or, you take a client to dinner and while emptying your pocket the next morning you simply take a photo with your phone and send it on its way (think NeatReceipts). You can also log a cash expense via SMS (think taxicabs). Finally, directly import your business credit card account and your reporting is being updated as you incur expenses (think Mint). These are just a few of the many features and services offered by Expensify. The days of the shoebox are numbered.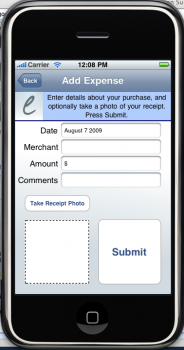 They have done their research. As someone who has submitted, approved, and paid expenses in the past, I can't find any holes. Better yet, it's free if you are having expenses submitted by two or less people. More than two, it's $5/month per person.
The beancounters and procedural police are taken care of as well. Expensify also provides additional support for the entire expense reporting workflow on their site – after submitting a report, the boss can approve the expenses online and the finance person can provide reimbursement electronically via direct deposit. Additionally, Expensify offers tight integrations with QuickBooks™, FreshBooks, Google Apps, and Salesforce.
Summing Up – Is it worth it?
Enterprise Value: 5/5 – currency conversion + customized policy mgmt
Entrepreneur Value: 5/5 – saves money and time
Personal Value: 0/5 – do your mileage log elsewhere, use Mint