about seasons of life and work.
When the sailors went home last fall, some cleaned up their boats and go involved in other things. Some might have figured they were done and sold their boats off. I suppose some "hibernate" — put their in storage because the season for sailing is over. They sleep in the freeze.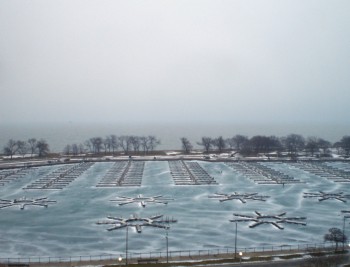 The sailors who love sailing know just saw it as part of the yearly progress of the sailing "routine." Winter is a luxury of time to fix what was wearing, mend what was tearing, and replace the broken things. They assess, check, invest, and work toward the days that bring back the summer breeze. They invest in the spring.
It's a fact that that eventually the ice melts, the harbor always comes back in spring.
But you has to work on your boat, study the climate, and live your goals to set sail even better than before the water froze..
Most work that we love seems to have some cycle with a winter and a spring. A downtime offers an opportunity to get us running sleeker, faster, and in a more stable fashion again.
Most who do well when spring returns have been working all winter on a plan. We use the time have to build our skills, restring our offers and invest in our networks so that when up time and sunshine return we are sailing again. It's even more than productivity and good business, it's being invested in ourselves, our lives, each other and our dreams.
What are you doing to invest in the spring?

Have you registered for SOBCon yet?
Imagine a elite weekend retreat where you can work on your business strategy and tactics with a mastermind team and these folks to help. Sign up for the newletter to get in on special offers.