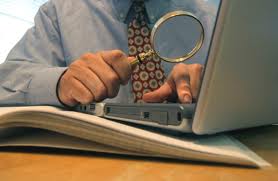 When you recently flipped the calendar over to a new year, what were some of your first thoughts?
Did you consider that checking out and potentially repairing your online reputation or that of your company would be top priorities in 2013? If so, do you know how to accomplish such a task?
For too many business owners, today's Internet age can be both a boon and a bust. If it is the latter, the repercussions can be quite impactful.
Stop for a minute and review this last year, especially your interactions with both employees (where applicable) and customers. Did you have any run-ins with either? Is it possible they may have taken to the Internet to besmirch the reputation of you and/or your company? Has any of your personal information gotten online, now potentially putting you in a bad light with current and potential customers?
As you can see, there can be many bases to cover as a business owner. Most importantly, it just takes one slip up online for you and your business to suffer the consequences from.
With the New Year here, setting aside time to Google your name and that of your company just makes sense. In fact, it should be required as mandatory planning going forward from here on out.
When you research your name and your company's, should you find negative comments related to one or both, there are some actions to take. They include:
* Decide how to manage problem – When you find negative online comments that can be cutting into your ability to do business, there are essentially two options, handle the matter yourself or seek outside help. For those who select the second option, know what you are getting in return for your money. There are various consultants and companies out there who will take the time to help in rebuilding your online reputation, but check them out first. Make sure the consultant or company has a proven track record, spells out all the details of what you will get for your money, and does not have any issues with groups such as the Better Business Bureau (BBB);
* Accentuate the positive – Whether you yourself or someone else takes on the challenge of improving your online reputation, be pro-active. T he reason you got into this situation in the first place is that negative details about you and/or your business rose up the search engine meter. As a result, consumers now may have a negative opinion of you or the company. In order to change that, you need to pump out things such as customer testimonials, blog posts, press releases, and anything else that speaks highly of you and the business. As you do that, the negative stuff will be relegated to a lower position on the search engines, meaning it will not be as easy to find;
* Clean up your act – Finally, make sure any personal data about you or your business is properly suited for the Internet. Keep in mind that there are people search databases out there that can tell the world an awful lot about you. Such material can provide individuals with things like your home address and phone number, court records, income and more. In order to get that information removed from sites such as Intelius, you need to deploy Intelius removal. By monitoring such information, you can make sure it does not show up on other venues, potentially putting you or your business in a bad position.
As you go forward in 2013, keep in mind the importance of monitoring and controlling your online information.
In the event you do not, your reputation could come out on the losing end in this game.
Photo credit: marketingpilgrim.com
About the Author: Dave Thomas covers small business topics for various websites.