Before the Day Is Fully Conscious
When the first bit of morning comes to visit, I'm hardly awake. I walk in the dark to the kitchen. Still, I have an intention, an aspiration ready and waiting. I think about it before I go sleep.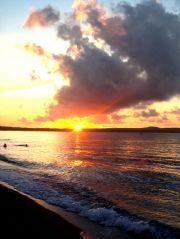 I will have positive things happen. I intend. I mean. Intend to make my a positive life. Positive things make a life light free. I mean to fill my life with them. I see. I will. I see no reason that why I cannot be or do what I set out to be or do. I will be someone who changes the world one person at a time.

The word intention literally means stretching toward. The word aspiration means breathing toward.

I intend to aspire to bend my knee and fly higher. I intend to become more and then imagine even more.

The possibilities are as big as my heart, as unconditional as my love, as generous as the rain. — Aspire
I wish those ideas into my head and my heart even before the day is fully conscious. When I succeed, everyone around me notices they're having a marvelous day.
What will you stretch toward, breathe toward, today?
–ME "Liz" Strauss
Work with Liz!!