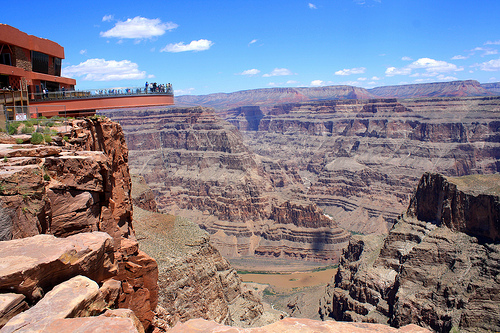 All of the good stuff happens in the little moments where you just say to yourself, "heck with it, I'm going for it." When you extend yourself beyond what you thought was possible.
You'll never see what the Grand Canyon looks like from an eagle's perspective unless you have the guts to step out onto the Skywalk.
And you'll never know if you can run a successful business unless you decide, and take that first step.
The first step seems intimidating, but there are ways to start building momentum that don't involve tightrope-walking across the canyon (even Wallenda carried a pole for balance). This is not an exhortation to quit your day job and recklessly hang out a shingle.
This is a call to action. Any action that takes you in the direction of your goal.
If your goal is to start a business of your own, there are many "first steps" you can take. The Small Business Administration offers these 20 Questions to Ask Before You Start a Business. That's a good, thought-provoking starting point.
Extend Yourself Toward Starting Your Own Business
It's time to stop talking about starting your business, and start doing something. Get out of your comfort zone, extend yourself, and take that first step.
We're here for you!
Photo courtesy of Leonardo Stabile, via Flickr CC.