by
Andy Crestodina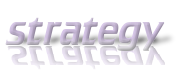 Talk About Your Goals
Research shows that writing down a goal increases the chance of achieving that goal. The same research shows that talking about your goals makes success even more likely.
When Dr. Gail Matthews conducted a study of 149 participants, she found that committing to your goals in writing has a positive impact on your chance of success.
Here's how the study worked
149 subjects were divided into several groups and each subject was asked to select a goal. Some were asked to simply think about their goal. Other groups were asked to write their goal. A final group committed to their goals in writing and shared that commitment and progress reports with a supportive friend. At the end of four weeks, each subject reported the extent of their goal setting success. (see the research summary here)
Sharing with friends makes goal setting successful
When goals are written and the commitment and progress updates are shared with a supportive friend, the likelihood of achieving the goal was the highest. Why? It may be fear of disappointing them. It may be a fear of embarrassment. Or it might be that encouraging boost of confidence that only a friend can give.
"There was support for the role of public commitment: those who sent their commitments to a friend accomplished significantly more than those who wrote action commitments
or did not write their goals."
– Dr. Gail Matthews
Find an Accountabili-Buddy
Find someone supportive whom you respect. Someone you don't want to disappoint. Schedule a regular time to meet or talk on the phone. Tell them your goals and ask them to hold you accountable. Or make it mutual and work on goal setting and success together.
Personally, I hope to one day be an author, so I found a friend who has published books. I meet him twice a month at 8am. We drink coffee and share progress. He holds me accountable and I hate to disappoint him!
What are your goals?
You are moments away from leveraging this simple but powerful principle. Right now, you can state your goals to the world. Just tell us your goals with a comment below. But be careful! We may hold you to it…
Author's Bio:
Andy Crestodina is the Strategic Director of Orbit Media Studios, a web design company in Chicago. You can tell Andy your goals on Google+ and on Twitter.