My Academy Award slipped through my grasp when I was in college.
Although I was a Political Science major, I had signed up for Acting as an elective. Sure that I would accidentally become the next Meryl Streep, I emoted my guts out, hung around with artsy friends who were making student films, and made it into the school musical.
There was just one tiny problem.
I was a terrible actor.
In the same way the Hindenberg was a terrible blimp.
And I only realized it when my acting teacher told me I'd better withdraw from the class or she was going to fail me. (Seriously? Who flunks the acting elective?)
Sometimes it takes an outside, objective force to bring you to your senses when you're in the throes of a bad idea. A wake up call.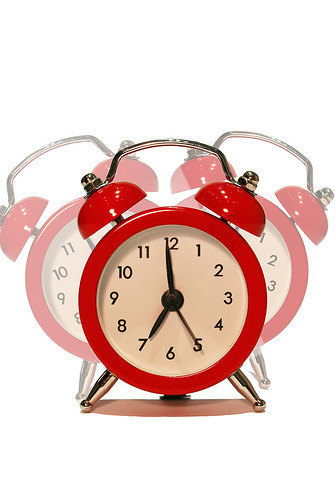 Recognizing When to Pivot
Starting a new business is the ultimate gamble. You're pulling up a chair to the poker table and pushing all of your chips to the center.
It takes a special kind of guts to go beyond having a great idea, and actually start something that creates value.
It's wonderful to have guts.
But it's more important to keep perspective on the situation. Blindly charging ahead without ever stopping to evaluate your strategy is not smart.
"Insanity: doing the same thing over and over again and expecting different results." Albert Einstein
In gambling, you're taking a calculated risk in order to potentially earn a big reward. Business is the same thing. You don't have to put all of your chips on the table at once. You can test some ideas, play a few hands while you evaluate your fellow poker players.
When Odeo became Twitter, there was no guarantee that short, wonky status messages would become something that dominated the entertainment industry (hello, hashtag fever). The founders got the wake-up call that podcast subscriptions were about to be gobbled up whole by iTunes, and made a rapid course change.
Just because you decide to change direction, doesn't mean success is guaranteed either. The jury is still out on whether Fab's revamp from a social site to a shopping curation engine has worked.
The point is that when the wake-up call comes, you need to paying attention. You need to have resources you can marshal to respond to the call.
Make Sure You Recognize the Wake-Up Call
Have someone around who will speak the truth. Don't hire yes men (or women).
Don't fall in love with your own ideas. Keep an open attitude toward your creations, and allow the oxygen of alternatives into the picture.
Read, read, and read some more. Always be learning from others and improving your knowledge base.
Build in time to stop and evaluate the numbers. Look brutal reality in the eye on a regular basis.
Are you prepared for a wake-up call?
Photo Credit: Alan Cleaver via Compfight cc