Gotta Be Visible Authenticity

The entrepreneurs and brand managers I work with both often start by asking how to use the social web. Their goal is to promote their business or their brand. The worry that seems consistently common in every first question is that they appear professional and helpful. No one wants to appear to be too aggressive in social web space.
How to Promote Your Business Without Being a Seen as Smiling Shark
When the wrong kind of promotion comes our way, it feels like we're not being seen as people, but more like prey. Who wants to do business with someone that comes at us like a shark? No one in a marketing or sales role wants to be perceived like that.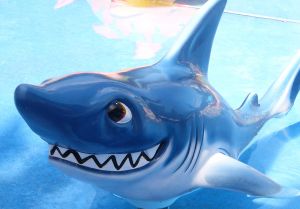 I've found that the key to elegant and authentic promotion is being fully present in the conversation. Too often we start talking before we listen. Too often we haven't fully considered what brought us to be interacting. Knowing who we are, what we offer, and how it fits our reader-customers before we even start a conversation can make promoting a blog, a business, or a brand as seamless as talking to a friend about how our day went.
These questions can get us to that information.
Are you truly passionate and excited about it? If not, go find out how you can be. Be clear on what drives you.

"Can I tell you why I'm so excited to be working with big companies on big ideas that connect people and change lives in ways that really mean something."

Can you articulate that passion and excitement? What words explain why you are willing to invest the time of your life building that blog, business, or brand? Be able to tell the story that connects you to what you're sharing. People will identify with that.

"Every day people I work with tell me that they think that what we've put together to connect with new business is going to be so much easier and so much fun."

Can you name and claim what you offer so that folks can attribute it you? Can you explain how your blog, your brand, or your business will change people's lives in a clear and specifically good way? Give that a name so that the idea stick. Draw a picture with words and name that. Become the person who is the only one who provides that.

"Folks who know how to talk about their unique value attract amazing people who want to be part of what they're doing. Knowing what you offer is powerful."

Do you call folks to action and offer them an easy way to talk about what you're building? Can you show them how joining you will make what they do easier, faster, and more meaningful? If you don't tell folks how to join, be a part, they could think you don't want them to. Gotta invite them.

"If want you to talk about how to do that, it only takes about 45 minutes."

Do you invite people offer their experience? Do you ask folks how you might reach more people who could benefit from your brand, your book, or your product? If they offer suggestions, do you follow through?

"If you were me, what would you differently to offer folks like more value in faster, better, more meaningful ways?"

Do you ask people to talk about you? Do you give them ways they might do that, ways that make them feel proud for helping you?

"So glad you found value, would you tell your colleagues about our work together? I'd love to help them too. We can all grow together."
Not every questions fits into every conversation. The thing is that when we know ourselves, our business goals, how to partner and how to extend an irresistible offer, promotion gets to be as passionately authentic as the other parts of the work we do.
How do you make sure that your promotion is authentically you?
–ME "Liz" Strauss
Work with Liz on your business!!
Register Now!! for