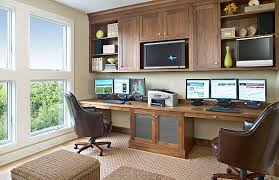 More and more people are working from home.
Maybe it's telecommuting for an international multi-billion dollar company, or it could be running your own small business from home where you are your only employee. Maybe sometimes you're in a company's office, other days you're at home.
Whatever the case may be, it's becoming more the norm for people to be working at home.
According to a Forbes piece, at least 30 million Americans work from home at least one day a week. This number is growing and is expected to continue to do so over the next few years.
One of the main reasons people do opt to work from home, and why companies are supportive, is because work productivity is shown to increase for those who work from home.
Not only do home officers save time (which means money) by skipping the commute, they also can be more productive at home by working in more personalized comfort.
When it comes to that personalized comfort, which is conducive to productivity, how do you get the optimal home office for an affordable price?
Take a look at some of these tips to find what works for you and enhances your own space:
• A designated space – It's important to have a designated work space aside from your home life. Keep the doctor bills and PTA forms somewhere else. Make sure this space stays all business and your productivity will increase. It's not cost prohibitive to do this, you just might need to do some organizing.
• A comfortable space – If you are at your desk for any extended time, you need to be comfortable. Major retailers, including Walmart, offer great specials on affordable and comfortable office desks to make working from home a positive, comfortable and productive experience. Along with the desk, you need a comfortable chair to keep your posture and back healthy.
• A well-lit space – You will be happier working in a space with good lighting. If you can't have natural lighting, find some lamps that offer good light. Even the paint color on the wall adds to the lighting feel; choose a color that works well for you, makes you happy and that you find positive energy from. Paint is an affordable way to make a big change in a space.
• A clutter free space – Even if you've banished all your home clutter from your work space, make sure you continue to keep it clutter free. Toss or file old documents, organize material on a regular basis and keep what you can electronically, toss the hard copies.
If you can set up your work space when you first start your home office experience, your productivity will shine. It's beneficial to do it the right way from the start so you don't need use valuable time to make changes.
But if you do need to change something, do it – it will be worth it for your comfort and productivity.
Photo credit: decoist.com
About the Author: Heather Legg writes about small business, staying within a budget and making the most of what you have.