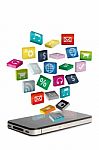 Would you like to encourage both sales and customer loyalty at the press of a button or the tap of a screen?
A mobile app can help your business do both those things. We live in a mobile world, with people using their phones for everything from finding the best deals to finding a local restaurant.
Developing and marketing your own app means your brand is there when consumers are searching for a business like yours.
If you're ready for your business to go mobile, start with these four steps….
Create an App Worth Marketing
Before you start marketing your app, you need to design and create it, or employ someone to do that for you.
At this stage, ask yourself what your app is going to do for your customers. There's no doubt that an app has advantages for your business – you're putting your brand right there on your customers' phones, creating another channel for communication, and making your company a part of their daily life.
But to reap those advantages, customers need to like and use your app, which means they need to know what it will do for them.
Ask yourself "what problem will this app solve for my customers? How will it make their lives better?" and you'll be well on your way to making the most of your app.
Know and Communicate Your App's Unique Selling Point
Is your app built and ready to launch? It's time to make sure your customers know about it and know what it can do for them.
As the article "How to Market an App to Consumers" points out, your app needs to stand out from the competition.
The first step is making a functional app that is truly useful. The second is your customers know about it. Instead of "download our app", tell them why they will love it.
For example, a restaurant might let their customers know that downloading their app means getting the latest offers direct to their phone, while a financial planning service might offer financial advice and tracking.
Offer Time or Location Sensitive Advantages
One of the best things about mobile apps from a customer perspective is the chance to get deals and bargains that aren't available anywhere else.
From exclusive downloads or games to money saving coupons and offers, or even information that is tailored using location and date, there are lots of ways you can make your app indispensable.
After all, who doesn't love a great deal?
By offering something exclusive to customers who download your app, you're giving them a strong incentive to do so, and making it worth their time to open your app regularly, which means keeping your company name at their fingertips.
Make Use of Social Media
If your customers want to keep up with their favorite brands, research purchases or find good deals, where do they go? There's a good chance that social media is one of their go-to places.
Meet them there with Facebook updates, Tweets or even blog posts that tell them all about your new app.
Keep the focus on why your app will make their life better. If it suits your business tone, add in some fun, encourage feedback, or even run a competition based on sharing or re-tweeting your updates to get your customers sharing on your behalf.
An app is a versatile business tool that you can use to connect with your customers and build brand loyalty.
Plan your app carefully and market it with enthusiasm and plenty of talk about the benefits it offers your customers to increase your app's usability and popularity.
Photo credit: Image courtesy of KROMKRATHOG at FreeDigitalPhotos.net
About the Author: Tristan Anwyn writes on a wide variety of topics, including social media, small businesses, mobile apps and SEO.