The Metaphor Project: What Fun!!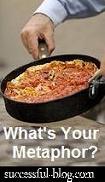 This list is the fourth set of metaphors you've sent. I've gathered all I could find in every corner where they might have come together. I've visited most and hope to read the rest today. Each one I read makes the experience even better.
To think that Derrick's Pizza Makers and Char's Famer's Market got this whole thing going is quite the statement of how the blogosphere works. A great idea takes hold and gets growing — each one inspiring another.
Check this new batch out and pass them along to your readers. The more ways we look at blogging the better we'll be able to explain it when we need to.
Oh, I hope I found them all.
Because this project spread so quickly and not all links are making their way to me, if you've written a metaphor and you're not on the list, please email me a link.
This weekend, when I'm sure that I have them all together with none missed, I'll compile the entire lot into one list. (If you sneak one in late I'll add you, you know that.) That's when I'll announce the winners of the ten copies of Blogging Tips That Bloggers Won't Tell You About Blogging by Lorelle VanFossen.
Thank you for all of the submissions to The "What's Your Blogging Metaphor?" Group Writing Project.
In respect and gratitude to all who took part and all who blog, here's my metaphor:

–ME "Liz" Strauss
Check out the Work with Liz!! page in the sidebar.