It's the end of Summer, a perfect time to add some fresh subscriptions to your podcast queue.
After all, once the kids go back to school, you'll be able to wear headphones without interruption for popsicle breaks or bicycle tire repair. (Bittersweet, I know…)
Today I'd like to share my latest podcast recommendations for busy entrepreneurs/business builders.


I've been a subscriber to Scott Monty's excellent marketing/digital newsletter for a long time. This podcast is the audio version of the newsletter, and I love that it's only 15 minutes. You can squeeze this in, even on a short commute, and be instantly up to date on what's going on in the industry.

Patrick is one of the leading experts in online community, and Community Signal is a deep dive into how to do it right. If you want to really know how to engage with your customers, fans, and partners in an authentic way, give this great podcast a listen. (And I'm not saying that just because I've been a guest on the show.)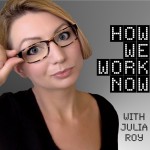 Julia is a bundle of energy who has been known as "the digital girl," with a highly successful entrepreneurial, blogging and speaking career. Her new podcast is an interview series that will focus on one area of creative professionals each season. This season focuses on writers, and started off with an excellent discussion with Dorie Clark. Seriously, you need to add this one to your list.
Stewart Rodgers & Travis "Teedubya" Wright's VB Engage

Even though this podcast comes from Venture Beat, it's not about venture capital. Don't be intimidated away. If you listen, you will get smart discussion about marketing technology, user-centered design, mobile marketing, and more. Warning: there will be snark.
Andy Crestodina & Barry Feldman's Content Matters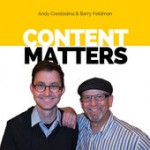 If you want to know how to do content marketing right, these are your guys. Andy and Barry explore the ins and outs of headlines, analytics, SEO, and everything else you need to know if you want to use content marketing in your arsenal. Need I mention the excellent banter? The fact that you can access both of these guys' brains for free is simply amazing.
What are your favorite new podcasts?