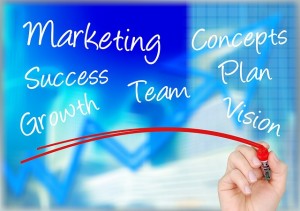 As you sit back and look at where your business is heading into 2017, are you happy?
For starters, are your sales numbers where you really want them to be? Do you feel like you're getting everything possible out of your sales team? Finally, what visions do you have going forward for improving sales in 2017 and beyond?
Whether you are entirely happy with your sales numbers or feel there is work to be done, reviewing where you are at makes sense.
To start with, you should always hold a firm grasp as to where your company was, where it is now, and of course where it may be headed.
By being attentive to where your business may need help, you won't be caught with your pants down so to speak.
So, will you be looking for better sales numbers in 2017?
Giving Customers What They Want
One of the keys to better sales numbers is making sure your marketing efforts are spot-on.
So, how do you know if your marketing is truly reaching the people you need it to?
To begin with, having a well-rounded marketing strategy is related to knowing what and how to use search engine optimization (SEO) to your advantage.
For those business owners a little green with SEO, turning to professionals to run your search engine optimization efforts and overall marketing initiatives makes sense. Whether you opt for search engine services for your West Palm Beach business or others closer to you, don't turn down professional help.
With professional SEO help at your service, you can do things you probably never even thought of, especially in improving sales. Before you enlist  the help of an SEO provider, be sure to do some research to see which one best suits your needs (see more below).
How Do I Select the Best?
In order to find the best SEO provider out there, make sure the following areas are covered:
Experience – For starters, do not overlook the experience of any SEO provider you consider doing business with. While there are some terrific new SEO providers out there, experience is always a plus. Be sure to ask any SEO company you might do business with to provide you with a portfolio of successful projects they have done. By seeing how they've helped other brands, you may see why they're the one (possibly not) for you;
Initiative – How excited are SEO providers you talk with when it comes to possibly helping you out? Are they ones with a passion for SEO, a passion that could translate to better overall brand marketing and promotion for your business? If so, then they are definitely ones to consider;
Promotions – As any good SEO pro can tell you, a well-round search engine optimization program is what it takes to get your brand noticed. This includes not only the right SEO keywords for any content you author, but great content itself. Your goal each and every time you author content is to make it both authoritative and informative to consumers. In the event you don't provide those two major ingredients, what purpose is it really serving them? You also need a great effort when it comes to social media. That social networking can increase your sales numbers as more consumers talk about your brand to their family and friends.
Moving Forward with Promotions
As 2017 approaches, take the time to see if your sales numbers are headed in the right direction.
If SEO has not been a part of your brand promotions up to this point, you very well may want to change that approach moving forward.
With so much on the line in terms of sales and increasing your revenue on a regular basis; stop to see how SEO fits into those plans.
When all is said and done, you might be happily surprised with what you find.
Photo credit: Pixabay
About the Author: Dave Thomas covers business topic on the web.