Smiling Sunday
Sundays start so slowly. They take a while to get up and rolling. Sundays would be a perfect day for a walk in the early morning.
I've wasted too many beautiful Sundays doing things meant to make an easier Monday. Sunday should be a day that's kept for doing special things.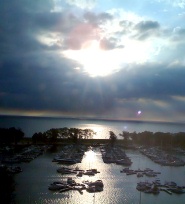 I'm starting a small Sunday tradition of drinking my coffee while looking out the window. It doesn't sound like such a miracle until I mention a sunrise is in the view.
A Sunday sunrise miracle and a cup of coffee combine to make a great way to start me my mind thinking of new ways to see the world.
This Sunday morning, the harbor seems to be smiling back at me.
I hope you find a way to do the same thing.

Image: mestrauss