Simple Is Elegant

Today Technorati has unveiled a new site redesign that changes how it works from the deep backend to the beautiful, easy-on-the-eyes home page. The changes have been in the works since January 2007 and are made to reflect the new living web and people, like us, who live and work here. David Sifry explained it this way.
Whereas folks using Technorati a couple of years ago were predominantly coming to us to search the blogosphere to surface the conversations that were most interesting to them, today they are increasingly coming to our site to get the 360 degree context of the Live Web – blogs of course, but also user-generated video, photos, podcasts, music, games and more. They want all the good stuff out there, all in real-time, and we're using the power of 80 million bloggers to help organize it and make it fun to browse; using the wisdom of crowds as a mirror on ourselves.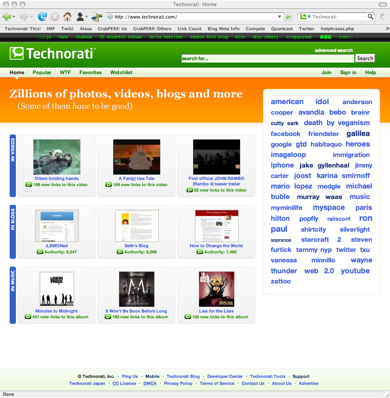 Finally, the Keyword Is Simple!
You won't hear me complaining about more bells and whistles this time. Finally, with a long hard look, the team has backed off what doesn't work and put their stock in a new keyword — simple.
Here are some of the changes you'll find when you go there.
Simpler interface. Everything is easier on the eyes and easier on the brain. Lots less visual noise.
Simpler context. Preview information is useful and cut back to speed up load times.
Simpler search. No more search silos, i.e. keyword search, tag search and blog directory search. One search gets you everything across the Live Web — blogs, posts, photos, videos, podcasts, events, and more.
New simple streamlined blogsearch. A new blog-only search homepage at search.technorati.com (an easy shortcut is s.technorati.com)

Technorati has been listening. You can see it everywhere. I won't ruin all of the cool stuff. But don't miss the tickertape. It's just fun — the web alive, on the move.
Sure, I bet you'll find a few kinks to work out. If you do, feel free to leave word here. I'll pass your issues along all at once for everyone's benefit in getting problems fixed.
Sometimes we forget that Technorati is a small business, not some Google-sized corporation. It's 45 people who are grateful when we remember to say, "thank you."
Thank you, Dave, Janice, and Liz. Thank you to the entire team for listening and for a fabulous job! Good luck in catching all of those pesky bugs.
Liz
See Also
Come check out the refreshed www.technorati.com!
The Technorati Blog May 23rd