We Make It Harder Than It Is

Sometimes we try too hard. Sometimes we reach too far. Sometimes we take the long way home because we never stopped to think about the easier one.
Are you looking trying to expand your community, your business, your sales, your blog readership? Want more followers on Twitter, more fans on your Facebook page, more members in your community?
I'm going to tell you straight out, there's one step you can't skip.
If you want more folks to love what you do, you have to be able to tell them why you love it yourself — clean, clear, fast — in ways they enjoy and understand.
It's not that hard to do. It works this way …
If we make beautiful glass like this …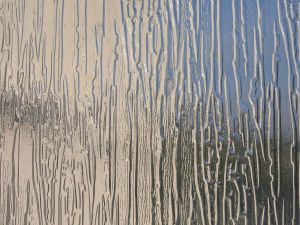 … we have to be able to tell people what's to love about it. Here's how to do that.
Find the love stories in what you do. You can love the challenge. You can love the chase. You can love the heroic heritage. You can love what it does for people. You can love the time it saves. I love beautiful glass because it reminds me of the beautiful, beveled mirrors my dad used make. He taught me to appreciate the value of hot-sweat and workmanship.
Once you have the stories, find the ideal people to share those stories with. The people who love what you love are sure to think a lot like you do. You probably already know some of them. The first ones are probably very close to you. They probably have a few friends who have a few friends. To find the folks who value what you do, just share the irresistible stories and love behind the work that you do.
Tell the stories in ways that invite them to share stories of their own. Stories connect us in ways that small talk and transactions never will.
Listen carefully for details and doorways. Their stories will reveal their values — some the same and some unimaginably different from your own.
Pass on their stories to connect with new people new ways. Those might be people who work with what you make, who want to use it in different ways, who have ideas for partnerships.
The stories of what we value define us and better and faster than anything can. When we share those stories our relationships, our knowledge, our networks and our collections of stories expand. It's a natural progression.
Whether we're a huge corporation or a solopreneur, there's no skipping this step …
If we want more fans, we have be a fan first.
How do you share your love for your work?
–ME "Liz" Strauss
Be Irresistible!
I'm a proud affiliate of