Bounce! Not Bounce Back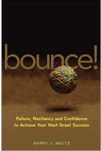 Barry and I met the first time in a local coffee shop. We shared a bit about ourselves and quickly got to the many facets of Barry's business career, his books, and his experiences. We talked about his first book, You Need to Be a Little Crazy: The Truth about Starting and Growing Your Business. He told me a few stories about his own successes and failures and how they contributed to his new book —Bounce!: Failure, Resiliency, and Confidence to Achieve Your Next Great Success. Bounce! is about how to gain true confidence by learning from and letting go of past success and failure.
Barry, I love the cover of Bounce! So let's start there. What is Bounce! anyway? Is it about bouncing back? Why a rubber band ball on the cover? What does the rubber band ball mean and how can I get one?
I don't believe that we bounce back. That is too simple. The business world is not structured in a linear way,

Bounce! is about letting go of what you were taught was the secret path to succeed in business. Letting go of the idea that something to learn comes from failure or that you can always duplicate your success. Let go of the shame of losing and the enlarged ego that comes with a big win.

If we let go of whatever the last result was — we can actually Bounce! We can learn what — if any thing — from the last success or failure and get ready by bouncing to the next decision that we have to make.

Any success or failure is just a part of the entire business lifecycle. Individually, a particular result or outcome actually means nothing. No event will guarantee the same result in the future. By learning to bounce through this repetitive process of "success and failure, failure and success", you will develop a resiliency that will lead to the true business confidence that ultimately determines which ones of us succeed.

More importantly, it allows each of us to have passion and enthusiasm regardless of where we are in the cycle. It allows us to get ready our next great success!

I love the rubber band ball for a lot of reasons. I grew up making rubber band balls. They became somewhat of an obsession for me. I loved how you take a simple rubber band and make it into a cool toy ball that could bounce. The biggest one I ever made was about 6 inches in diameter. Recently I went on YouTube and there are so many videos with rubber band balls doing a lot of things.

I concept of the rubber band ball is that while there are not 10 steps to success, there are building blocks. In order to build true business confidence, you layer on these bands or foundations for yourself. Rubber bands are also very flexible and that is what you have to be in the business world to succeed.
Thanks, Barry!
Tomorrow we'll talk about the Archetypes that lead to success. Find more great information about Bounce! and advice on success and failure at BarryMoltz.com
–ME "Liz" Strauss
If you'd like to invite Barry to do a guest post or an interview at your blog, email me at lizsun2 at gmail.com