Failure as an Ingredient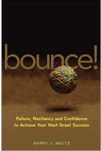 Yesterday we talked about how people say the road to success follows three archetypes. Barry names and exposes them as myths in Bounce!: Failure, Resiliency, and Confidence to Achieve Your Next Great Success.
But what about our failures?
Hi, Barry. I like that you find it important to take a moment to stop talking about our success in order to honor our failures. What do you mean by that? How do we honor a failure?
Well the first thing we need to do is stop letting our egos brag about our successes but instead Honor Our Failures. A year after leaving a 9 year career at IBM, I was fired from my new job. Then I was kicked out of business in my second company by my two partners. This was the first place where I learned I could actually fail in a huge way. This is the first place I diverged from the master plan of success my mother had for me.

Now unfortunately in our culture, business wisdom tell us that when we fail there is always something to learn

We are continually reminded by those around us that failure is an important ingredient in the next success, possibly even a prerequisite. We tell ourselves that failure "happened to us" so that we could learn some important lesson that would later propel us to even more success.

Let me tell you the truth, when we fail. Sometimes it just sucks. There is absolutely nothing to learn. When I lost my largest client because they were indicted by the SEC, what did I learn? That I wasn't suppose to do business with criminals? I knew this… When my best employee left my company because her husband got a job in another state, what was I to learn? Not to hire people who are married?

Failure is valuable only when we realize it is a normal part of the business process even when there always isn't something to learn.

And there can be a lot of fear involved in this whole failing process. We have all heard about being afraid of failure and more recently, we are supposed to be now be afraid of success.

The fear in this process is not brought on by our competitors or other outside people. It mostly originates within us. The biggest fear we have is that someone in our position would have done better than us, made better decisions than us and would have built it faster and more profitably than we did. We believe that that we should be in a different place than where we are right now, and that we would be, if only we had made better decisions. Nonsense. You can't be anywhere except right here right now. Zen Philosophy says that we need to start from where we are.
Thanks, Barry!
Tomorrow Barry explains the upside of One-Hit Wonders. Find more great information about Bounce! and advice on success and failure at BarryMoltz.com
–ME "Liz" Strauss
If you'd like Barry to do a guest post or an interview at your blog during his virtual book tour, email me at lizsun2 at gmail.com