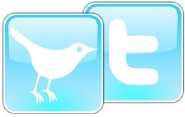 A new guy at the local pub asked me, "What is Twitter?" He said he couldn't make sense of it, but he supposed his niece could. She has a blog.
I finished what I was tweeting and walked over to show him. I held out the public timeline on my iPhone and began talking about what folks were talking about. As we looked down the stream, I "introduced" him to people in the avatars. We talked about what each tweet showed about the ways people use Twitter.
I pointed out the huge audience of lurkers and listeners and told the man in the pub that I preferred the folks who talk. The folks who talk make the tool a mutual resource. People who talk share information, ideas, and insights. From them I learn, I laugh, and I connect to new people and new ideas. Questions get asked answered by the folks who talk. It's like networking offline with the speed and reach of the Internet.
The man in the pub was shocked and awed …
The man in the pub came to mind yesterday when I read Lonnie Hodge's Blue Feather Tweeters.
So, I thought "How about a list of the top 20-30 nicest people to meet and tweet on Twitter?" Here are my first picks for Blue Feather Friends–who actually talk to you….
Lonnie's post and his idea to celebrate friends who actually talk to you … so inspired me. I want to offer you some of my favorite tweeters too — the folks who help me learn. Certainly these aren't nearly all of you, but these ones I think wouldn't mind a a new person starting a conversation.
Just a Few of My Blue Feather Tweeters
Of course before we talk, it's always a good idea to listen first. Then do tell them I said, "hi."
What Blue Feather Tweeters do you know?
–ME "Liz" Strauss
Work with Liz!!
Build better blog.
Invest in a weekend working with a social media dream team.