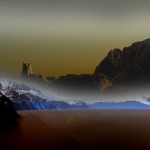 Once you've taken the time to sketch characters and a plot, weave a story around it all, and come out the other side with a completed masterpiece in hand, you may feel like your job is done, leaving you to take a well-deserved break from the pressures of writing fiction in favor of a vacation.
Unfortunately, if you plan to self-publish your work, you've got one major task ahead of you before you do: marketing your work to the world at large.
Luckily for you, the sheer power of social media makes it possible for even those writers entirely new to the idea of marketing to reach millions of people – you just need to know what you're doing. To that end, check out these five tips for effective social media promotion for fiction writers:
1. Make Full, Informative, and Interesting Profiles
When you make the leap from fantasy writer to social media marketer, you'll need to bring the same thoroughness that makes you an effective creative writer with you, allowing you to create the kind of social profiles that people are intrigued by and encouraging them to stay and explore you and your work further.
To achieve the desired result, make a point to weave hard facts with the same imagination that allows you to write fiction, ending up with an exciting profile that gives visitors the information that they need to understand you and your craft, even while you entice them with the potential enjoyment of your stories.
2. Let Your Story Do the Talking
Painting yourself as a real human being with worthwhile art to share is one thing, but, as a fiction writer, you know what readers really want, and that's a story that encourages them to enjoy late page-turning nights. With that in mind, don't underestimate the power of your stories, including settings, characters, and plots, to win over visitors and turn them into new fans and followers.
No matter what platforms you tackle, utilize the soapbox you've been given to give visitors a strong taste of what your work has to offer them, outlining highlights of your work, discussing your creative process, and dropping just enough tantalizing hints to keep them coming back for more.
Forbes lists some benefits of using story telling for marketing.
3. Use Your Imagination
If you're lucky enough to have the kind of mind that can come up with intricately detailed lands, mythical beasts, and intriguing storylines, then you're lucky enough to have the kind of imagination that can take you outside of the realm of the obvious when it comes to social media marketing. Besides making you instantly savvy where advertising is concerned, that imagination will also lead you to the types of social media tools that you may not otherwise think to utilize.
For example, Viral Content Buzz, a tool that brings social media users together in order to provide an extra push to their content, is a very useful tool that you may not come across if you're not creative with your web searching.
In order to take advantage of each and every aspect of the social web so that you can effectively promote your work, be sure to let your imagination play a role in even the most mindless of tasks; the results are sure to surprise you! Mind these social media marketing rules by @PakWired
4. Engage Your Fans and Followers
With useful, intriguing profiles and pages setup, and tools at the ready that promise to help you to be the most efficient social marketer possible, it's now time to get down to the nitty gritty of social media: engaging your new fans and followers.
Make a point to treat each and every one of them as well as you would a beloved character.
Make sure to create a separate site for your book. It's much easier to market a book that has a dedicated online presence. Unitedseo.ae (a company providing SEO services) has a cool guide on how to use content marketing to reinforce your digital marketing efforts.
5. Keep the Story Flowing
Even with all of that work done and in place, your job doesn't end here – in fact, the fun is just beginning. With strong profiles established and new fans and followers beginning to find their way to you, the true social aspect of social media is just beginning to show itself, giving you the opportunity to connect with your readers, both existing and future, on a meaningful level.
Besides helping you to sell more copies of your work today, staying on the ball and continuing to spend time engaging your social fans every day will help you to build a platform to carry you into the future, keeping you covered when it comes to sequels, new projects, and everything else that you put your hand to in the days to come.
Image source: Pixabay