by
Rosemary O'Neill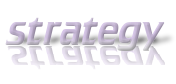 It's Not the Equipment. It's You
The garage is filled with racquetball rackets, tennis rackets, several bags of golf clubs, jump ropes, a dusty Bowflex machine, and stacks of exercise videos in formats ranging from Betamax to Blu-Ray. This is the debris of good intentions.
Is your hard drive full of unread PDFs, video training sessions, free eBooks, and email offers that you thought would help your business? Yup, mine too.
We need to clear the decks and make room for real progress. The only "equipment" you really need is your brain. So if those digital support systems are creating mental drag, hit delete. I promise you'll feel better.
In 2011, The Princeton Neuroscience Institute released a study that concluded (I'm paraphrasing in English), "too much clutter in your visual field prevents you from focusing effectively."
All of those unorganized files are like mental clutter. They are in your subconscious "to read someday" list, which grows every day. Eventually you'll be that guy who has 10 years worth of National Geographic magazines saved in the basement. Don't be that guy.
Do these three things today. It will allow you to start next week with a clear field of vision.
Do a full search of your computer for anything with a .pdf extension. Any PDF that's more than two weeks old, delete. Be ruthless. If you haven't read it yet, you're not going to read it.
Any emails that you're holding on to because they have links to interesting videos or white papers, run through them quickly and delete as many as possible. If there are very useful items in them, go to the web page and use StumbleUpon, Digg, Pinterest, Instapaper, or some other bookmarking tool to save or share them.
Once you're purged, create one central location for things you want to read (an Evernote folder, Dropbox folder, or just a folder on your computer). Put things in there when you run across them, and once a month, clear it out. I like to use the last day of the month, so that I can start fresh each month.
Here's your challenge: how many unread pieces of digital clutter can you delete today? Post your results here, if you dare.
_____
_____
Thank you, Rosemary!
You're irresistible!
ME "Liz" Strauss