There's more to SnagIt than capturing screen shots and editing visual elements . . .
Great Find: SnagIt
Permalink: http://www.techsmith.com/snagit.asp
Target Audience: All computer users
Content: This week I want to tell you about a tool that's earned a permanent home on my PC. For everyday use, I always turn to SnagIt from TechSmith. It's fast and easy-to-use for screen captures and editing visual elements, and it has more power than you might expect for $39.95. The development team is supportive and always looking for ways to improve the product.
Here are eight ways I use SnagIt:
Capture graphics of my screen when collaborating with others
Convert file formats (e.g., .jpg to .gif)
Capture all the image files from a specified URL
Capture a rolling screen
Select options like borders or resolution before making the capture so my images are consistent
Edit photos in batches to save time
Use paint tools to add arrows, text, etc.
Making a collage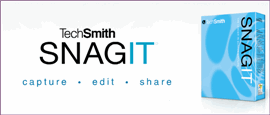 There is a capture timer feature that allows you to take screen shots at predefined times. (I'm trying that next!) They offer a Tip of the Day, tutorials, and lots of help screens. Try the 30-day free trialtoday!
SnagIt is a tool I have come to rely on and I wanted to share it with you. Let me know what you think!
Stay tuned… next week is a tool that's free!
–Sandy, Purple Wren
Related articles:
Great Graphic Find: Paint.NET
Great Graphic Find: Photoshop Elements
Great Find: Film Loop