The Book List: a weekly series by Teresa Morrow
I'm Teresa Morrow and I work with authors & writers to help them with their online book promotion and marketing. As part of my job I read a lot of books (I love to read anyway!).
The books in The Book List series will cover a range of topics such as social media, product development, marketing, blogging, business, leadership, organization, career building, finance, networking, writing, self development, and inspiration.
'#CorporateCultureTweet' by S. Chris Edmonds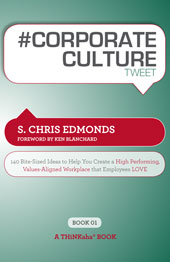 "Whether you want to think about, learn about, or go about improving your organizational culture, you need this amazing little book!"
Kevin Eikenberry (@kevineikenberry) is a leadership expert, speaker, consultant, and author of several books including From Bud to Boss
"Chris Edmonds is first a learner and then a teacher. His learner's spirit makes him a great teacher. It's great learning from him again."
Dan Rockwell (@leadershipfreak) is a community leader and consistent #leadership Top Tweet'er.
About the Book
Now that you're stepping up to a new leadership role, you're far less likely to receive useful guidance than earlier in your career. This holds true whether you are in your first manager role or an experienced leader joining top executive ranks. I find this problem is especially acute for new Directors and VPs. You've been hired at these levels for your track record, so people assume you know what to do.
However, just because you were successful in your last role doing or managing marketing, accounting, engineering, or whatever you did, doesn't mean you know how to make a strong start at your next job.
One-quarter of senior executives promoted from within fail in the first 18 months; one-third of outside hires fail. Many flame-outs can be traced to missteps during their first quarter. More importantly, for the 60–75 percent of leaders who survive into the second year, their effectiveness and trajectory are powerfully affected by choices made as they start.
If you're like the technology leaders, marketing executives, and top teams I coach, you might notice how easy it is to become so caught up in fighting fires that you forget to shut off the gas. Or, you suspect you're lousy at certain aspects of leadership, so you ignore them and hope they won't bite you. Or, maybe you never learned the rules in the first place! Leadership is an apprenticeship craft. With the trend toward more "flat" organizations, your boss may be stretched so thin that he/she can barely advocate for your team, let alone mentor you. Welcome to your new leadership role—you have a bigger job, in a tough climate, with very little support!
About S. Chris Edmonds*:
S. Chris Edmonds is a speaker, author, and senior consultant with the Ken Blanchard Companies. He has co-authored Blanchard's bestselling book, Leading at A Higher Level, and award-winning culture change process. As Blanchard's culture expert, he has helped numerous clients create a high performing, values-aligned culture using their proven process. Chris' blog at DrivingResultsThroughCulture.com and his tweets (@scedmonds) have resulted in thousands of followers on Twitter, Facebook, and LinkedIn who look forward to his culture tweets each day.
You can order a copy of '#CorporateCultureTweet' online at Amazon. *this information came from Amazon.
Next, I would like to introduce you to a book on the business book list on Amazon: 'Knowing Your Value' by Mika Brzezinski.
'Knowing Your Value' by Mika Brzezinski
This book came out recently on the new releases (business) list on Amazon.
"I have to admit, I did not have much of an expectation regarding this book. I picked it up at the bookstore to leaf through out of curiosity since I regularly watch the morning show she's on , and at times not really understanding the role she plays. What a surprise this book turned out to be!I could not put it down and ended up buying it and now buying many copies for my friends, mentorees and daughter in laws. I have spent the past 35 years , some would say very successfully, working myself up the corporate ladder, ending up as president of business units and companies. I experienced what she and her contributors have described in this book and I wish I had a book like this to read to 1) understand why I was behaving and feeling like I did, 2) why I let bosses and companies take advantage of me 3)understand better how to get for myself what I deserved….and overall to know I was not alone in this situation.I think this book is a great resource for every woman, and especially relevant for young women starting out on the corporate ladder, especially when there is so much "fluff" is written on career advice. I admire Mika B's honesty, and her access to prominent women is really helpful in that, their stories may provide the motivation for some women to act on the advice given in this book. Utka – Amazon Review
About the Book
It's no secret that women have long been overlooked and under-compensated, and while great strides have made in recent decades, the value placed on women versus their male counterparts is still consistently unbalanced. In Knowing Your Value, bestselling author Mika Brzezinski takes an in-depth look at how women today achieve their deserved recognition and financial worth.
Prompted by her own experience as co-host of Morning Joe, Mika interviews a number of prominent women across a wide range of industries on their experience moving up in their fields. Mika reveals how these women, including such impresarios as White House star Valerie Jarrett, comedian Susie Essman, writer and director Nora Ephron, Facebook's Sheryl Sandberg, and broadcaster Joy Behar, navigated the inevitable roadblocks that are unique to women.
Mika also uncovers what men think about the approach women take in the workplace, getting honest answers from Donnie Deutsch, Jack Welch, Donald Trump, and others about why women are paid less, and what pitfalls women face–and play into–as they try to get their worth at work. Knowing Your Value blends these personal stories and opinions with the latest research and polling on issues such as equal pay, women in the boardroom, and access to start-up capital.
Written in Mika's brutally honest, funny, and self-deprecating style, Knowing Your Value is a vital book for professional women of all ages.
About Mika*:
Mika Brzezinski is a co-host of Morning Joe, an MSNBC anchor and author of the New York Times bestseller All Things at Once. She is the mother of two daughters, Emilie and Carlie, and is married to an investigative journalist at ABC.
*courtesy of book website and/or Amazon
You can purchase a copy of 'Knowing Your Value' at Amazon.