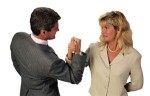 A co-worker and his wife recently brought three new lives into the world – triplets – two boys and a girl.
After all the congratulatory remarks were passed along, I stopped for a minute to wonder how the trio would be treated a couple of decades now when they go out into the working world. Trust me; their parents are likely asking can we at least enjoy them as little ones for a bit longer?
Will this young girl and millions like her find a working environment that is warm and receptive down the road or will it be cold and intimidating?
Challenges for Women at Work
While many young females are not stepping into 9 to 5 situations just yet, that day will come for millions of them and lead to an age old question, do they get treated differently than their male counterparts in the workplace?
As many successful women have worked their way up the corporate ladder, many others find themselves being left behind, whether it is salaries compared to men, opportunities for advancement or just plain respectability from their male counterparts.
As a woman in the workplace, have you found yourself the victim of?
A lesser salary than a male counterpart doing the same work;
Getting passed over for advancement opportunities;
Verbal or physical harassment.
While there are rules in place that are supposed to protect women against harassment on the job, the salary and advancement issues are two items that women have little power to fight. As even some males discover along the way, office politics can play a big role on who gets raises and the opportunities to move up the corporate ladder.
According to a recent study from CareerBuilder, 38 percent of female workers indicated they believe they are paid less than their male counterparts sporting the same skill set and experience. The study goes on to note that 39 percent of women employees think men have additional advancement opportunities within their companies, a jump of 13 percent from 2008.
Other interesting tidbits from the survey include:
45 percent of males note they make $50,000 or more, with 24 percent of females claiming the same;
10 percent of males make $100,000 or more compared to only 3 percent of females;
30 percent of males note they are in a management role compared to 21 percent of females;
36 percent of females claim that males receive more kudos for their achievements within the organization than they do.
One interesting fact from the survey was the responses males and females gave to what bothers them most with in the workplace.
Men noted that women oftentimes gossip or are too emotional or sensitive, while women claim men can be arrogant, make inappropriate comments or don't take women at work serious.
Interestingly enough, not a lot of men claimed that women use their beauty to advance their careers along. Oftentimes, an attractive woman in the workplace must overcome misconceptions that she used her looks, flirting skills or charm to work her way up the corporate ladder.
For those men who assume that some women in their office rose up the corporate ranks with anything other than their intelligence, keep in mind that many of these same women are holding down two full-time jobs – employee and mother.
Harassment on the Job
One of the biggest challenges women face in the workplace is harassment, oftentimes in a sexual manner.
A recent AOL Jobs Survey pointed out that one in six employees has dealt with harassment on the job. Nearly 50 percent of women are more apt to report it, compared to 21 percent of men.
For those women harassed on the job, which are oftentimes females working in blue collar type jobs, the issues can include: Unwanted jokes or offensive language, inappropriate touching or other contact with a male co-worker, being asked out on dates, and being subjected to suggestive pictures or objects.
According to the U.S. Equal Employment Opportunity Commission (EEOC), in 2010, more than 11,700 charges were brought by workers against co-workers or bosses (83.6 percent from women).
While lower pay, fewer opportunities for advancement and sexual harassment issues do persist, many women have overcome these and other obstacles to work their way up the corporate ladder.
To their credit, they overcame the naysayers who for years thought that women could be nothing more than secretaries and/or administrative assistants.
And for those males who think the secretary is a worthless position, who do you think gives the outside world its first impression of your company, handles myriad of duties and oftentimes holds the business together?
Women continue to make positive strides in the workplace, a workplace whose scenery has changed for the better in the eyes of many women and men.
Photo credit: kristisiegel.com
Dave Thomas is an expert writer on items like online marketing and is based in San Diego, California. He writes extensively for an online resource that provides expert advice on purchasing and outsourcing decisions for small business owners and entrepreneurs at Resource Nation.