Killer Visual Strategies, by Amy Balliett, is a rapid fire compendium of design and marketing advances, taking the reader all the way from cave paintings to Snaps.
The structure of the book includes real-world examples and exercises, intended to reinforce each design rule. And as you'd expect for a book about visual design, there are helpful graphics and "key takeaways" to assist the text skimmers. Amy is able to weave her considerable experience as an entrepreneur, communicator, and agency owner into the stories that illustrate each key rule.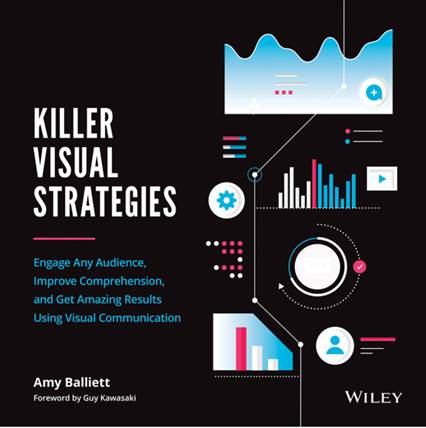 I read this book as a PDF, but it would really lend itself as a hard copy reference, sitting on your shelf next to Everybody Writes (Anne Handley's indispensable guide for copywriters). You will probably want to refer back to the step by step design process, or the guide to color or font selection, when you start working on future visual projects.
Should most projects have a strong visual component? It turns out that our brains are wired to respond faster and more deeply to visual content, so unless you're writing the next War and Peace, you can benefit from the art and science contained in this book.
The chapter on data visualization works on two levels. First as an amateur designer, you come away with a much clearer methodology for presenting information. Second, as a consumer of data, you are a much more informed customer. After reading this book, you'll never look at Buzzfeed charts the same way again.
Many marketers or solo entrepreneurs have to occasionally dabble in design. The strategies offered by Balliett act as guardrails, gentle nudges to keep beginners on the right track. Entire books could be written on each of the topics she covers, but there is enough meat on the bones to be a valuable resource.
I'd recommend this book for marketers, entrepreneurs, or anyone whose work brings them in contact with the visual arts. It's a quick read, but deserves a permanent spot on your reference shelf.
Author's Bio: Rosemary O'Neill is a writer, speaker, and Co-Founder of Social Strata, makers of the Crowdstack community platform. You can also find Rosemary on Twitter as @rhogroupee.
Disclosure: I was given a digital version of this book for review purposes.