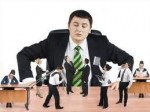 We've all been guilty at one time or another of being a micromanager whether it was in the workplace or other facets of our lives.
You can usually spot a micromanager a mile away – the individual who wants to be a good leader but goes about in the wrong manner. While trying to better their workers, athletes, students, loved ones etc. they end up creating an issue that was not there in the first place.
The micromanager in many instances becomes just that because they want to make sure everything goes according to plan, their plan.
Whether it is the boss who doesn't have enough faith in their workers, the teacher who strays from the lesson or the coach who doesn't trust his team, they end up micromanaging and with it bring added stress to a situation. Another way to describe it is the micromanager wants full control and will accept nothing less.
Most micromanagers come about their title unbeknownst to them. They oftentimes don't go out of their way to fill this role, but once it consumes them they know nothing else. Like it or not, they have programmed themselves for this part and they are unlikely to change unless called on it.
Dangers of Micromanaging
For those individuals who have willingly or surprisingly become a micromanager, there are options. They can continue to let this role define them as managers, coaches, teachers, etc. or they can do something about it.
One of the first things the micromanager needs to assess is how their actions are impacting not only those under them, but themselves. For many micromanagers, their leadership skills or lack thereof eventually lead to them burn out, taking some of those under them along the way.
While some micromanagers need to assume that role for a while if those under them lack certain skills and/or experience, others run the potential of alienating the very individuals they spend time working with, teaching and coaching.
No one wants to feel like they are somehow inferior to those above them, made to think like they cannot make a decision or carry out a project. The person in many cases will eventually tune out the micromanager, leading to an awkward relationship at best among the two.
Having discussed the dangers, how do you know if you in fact are a micromanager?
Among the telltale signs of this problem are:
You decide that instead of working to educate others and provide constructive criticism , you in fact treat them as inferior, being fast to highlight their mistakes;
You find the need to order individuals around;
You have a short fuse and become frustrated, defensive and/or lash out at those who contest something you did or said;
You are upset when someone goes above your head to deal with your micromanaging issues.
Given the fact we all have been guilty at some point in our lives of micromanaging others, it is important to not immediately play the victim game. Whether it is in the office, the classroom or other walks of life, micromanaging doesn't serve either the person in charge or those under them any good.
Many of us are taught from an early age that we are either followers or leaders. For many micromanagers, they take the leadership role a little too far, eventually isolating themselves as someone who others do not want to deal with.
In the event you've been labeled a micromanager or feel some of the above items may actually describe your leadership skills, don't think that you cannot change things. The benefits to removing the micromanager title from your resume are numerous.
Remember, an even bigger and better leader is one who can admit their deficiencies and learn from them.
Photo credit: smh.com.au
Dave Thomas is an expert writer on items like online marketing and is based in San Diego, California. He writes extensively for an online resource that provides expert advice on purchasing and outsourcing decisions for small business owners and entrepreneurs at Resource Nation.