Welcome to Episode 1 of Keeping Curious, the GeniusShared Podcast where each week Liz Strauss or Jane Boyd meets with Gigi Peterkin to discuss business, life & all things GeniusShared.
In Episode 1 Liz  and Gigi discuss Anything You Put Your Mind To, the new book written by Liz and published by GeniusShared Press. The paperback version was released a few days ahead of schedule and the eBook version is set to be released September 21, 2016 on Amazon.
Liz Strauss discusses her new book – Ep. 1Jane Boyd
Highlights from Keeping Curious – Ep. 1
How Liz came up with the idea of the book — 1:27
Gigi asks Liz about the idea of "running in your mind" and how Larry came to be — 5:24
Why Anything You Put Your Mind To is a book that only Liz Strauss could write and why Liz didn't write a business book first – 9:14
Gigi and Liz discuss fear and Liz's return online after "a very hellish experience of dealing with Cancer that actually took my voice for several months and took my energy for longer than that because of complications and broken bones and things . . . " – 14:40
How Liz thinks people will react to the book – 18:01
What Liz suggests listeners put their mind to this week – 21:15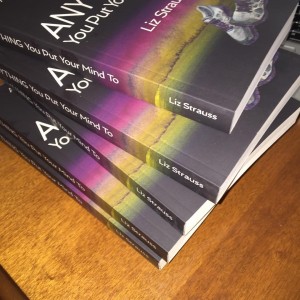 Order the paperback of Anything You Put Your Mind To today!