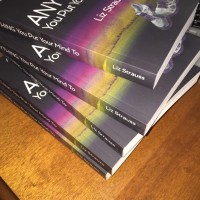 The Balance Rule & More – Ep. 3Jane Boyd
Liz and Gigi discuss many of the key messages that are in Liz's new book — Anything You Put Your Mind To, which was recently published by GeniusShared Press. The book can be purchased on Amazon.
Highlights from Keeping Curious – Ep. 3
0:35 – How Liz's came up with the title of the book.
7: 14 – Liz's talks about the book cover illustration and artwork by Jackie Shelley
10:17 – Gigi asks Liz about The Balance Rule in Anything You Put Your Mind To
20:00 – Liz discusses which character in the book she most identifies with.
29:00 – Liz talks about her approach to writing the book and her writing style.
32:00 – What's next for Liz – personally and in business.
About this Podcast
Keeping Curious, the GeniusShared Podcast where each week Liz Strauss or Jane Boyd meets with Gigi Peterkin to discuss business, life & all things GeniusShared.