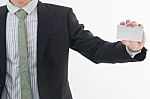 If you're a tech-savvy, online-shopping, social media-sharing internet junkie like much of the rest of the world, you probably wonder why some businesses still rely on business cards.
We live in a time where the world is at our fingertips – literally – thanks to the internet. You can find company information, contact pages, product information and more with just the click of a button.
So, how do business cards still fit in?
Surprisingly, a Small Business Sentiment Survey conducted by Yodle found that roughly 52 percent of small businesses still don't have a website. And, in North America alone, more than 20 percent of the population does not use the internet, according to Internet World Stats.
Business cards won't get lost in the shuffle of the world-wide web. They're concrete, edgy and still very useful.
In fact, a survey conducted by Designcrowd found that 87 percent of Americans exchange business cards when meeting. If you own and operate a small business, that statistic alone should be enough to make you want to develop your own personalized business card.
Why business cards matter
Though having a website and developing company social media pages are important, you still need to have a real-life, tangible business card to help meet your needs.
Keep in mind:
Business cards put a face to a business – When meeting someone new, handing them your business card (preferably with your photo on it) will help keep your business in the back of their minds. Though they may not need your product or services today, there may come a time when they do, and hopefully they will be able to pull out your business card and call versus trying to remember your company name and searching the web.
Business cards visually create your brand – Your business card should stand out among the rest. It showcases you and your company in a visually creative way. Don't just simply put your name and phone number on the card; instead, add color, a photo or two and your business' motto. Make it easy for your potential customer to want to use your services.
Without a business card, you look unprofessional – Even if your business is done almost solely online, you still should carry a business card for when you meet new people – whether at the gym or at your child's birthday party. Local business is always important and by handing out your business card to new people you meet, you're greatly increasing your chances of growing your business. Plus, if a new friend is genuinely interested in your company and you have no way of providing them with contact information, you may have lost them as your future customer.
If you'd like to get creative, Canva offers a "Free Business Card Maker" so you can easily create your own business cards with a few clicks.
Almost as important as the business card itself is how you carry them.
While stashing a few in your pocket may work, it's better to be organized with a sleek, high-quality holder.
Retailers such as Walmart offer a variety of business card holders at an affordable price. This Engraved Leather Business Card Case is lightweight, will fit into your suit jacket pocket and is personalized all for $25.
Have your business card handy and always carry at least 5 with you at all times.
As a business owner, marketing your business is not a 9 to 5 job, it's a 24/7/365 job since you'll always be on the lookout for new business.
Photo credit: Image courtesy of savit keawtavee / FreeDigitalPhotos.net
About the Author: Sarah Brooks is a freelance writer living in Glendale, AZ. She writes on small businesses, personal finances and travel.