By Dorien Morin-van Dam
I love it when my articles get read and shared, don't you?

I closely watch to see where it gets shared, on what social media platform, and by whom. I absolutely get a kick out of it when my article gets a bit of extra life when an influencer in my industry shares it with their audience.
When I first started to blog, I often wondered what made someone curate an article and share it. After three years of blogging and following and watching those in the social media industry, I have a much better idea of what the 'sweet spots' are. Knowing what type of article gets shared, does not guarantee your article gets picked up, by any means. It will, however, have a much better shot of being curated.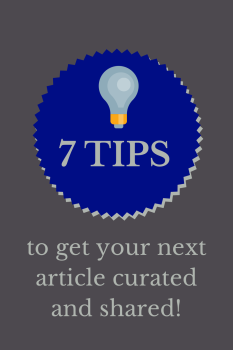 Put a Date On It – Really! Go check and see if your articles have a date. If the content is evergreen, I do not mind sending out an article that is older, but if you write about social media platforms and features, I would like to know instantly what date you wrote it. It will tell me if it's relevant and if I should share it with my audience, or pass it over for a more updated piece on the same subject.
Add an Image – I can't (I guess I could, but I won't) curate an article to Pinterest and G+ without a picture. In fact, the only platform I will send it out on without a picture is Twitter, but only if it is really, really good. And my thought is, that if it is really, really good, (and you are a really, really good writer) you should have put in the extra effort to actually find (or create) and upload an image! Your image has to be pin-worthy to be considered for pinning. Therefore, if you want your articles curated to Pinterest, plan accordingly with your image(s).
Craft a Catchy Title – Just like you want to catch my eye and have me curate and share your article, I want to catch the eye and interest of my audience as well when I share your article. Therefore, put a bit of thought into your titles. Make them catchy and irresistible, yet understandable! And please, do not misrepresent the article by using an obscene word or phrase. If you do, I will never share another one of your posts, no matter how great they might be!
Format For Easy Scanning – What does this mean? It means outlining your article in such a way, that if I scan it and see the thought process behind your article, clearly defined by the use of paragraphs, bullet points and a conclusion, I am much more willing to share it than if it was one, long, rambling article.
Mention or Quote an Influencer in your Article – If you can, reference an industry influencer by securing a quote from them. You could also reference a book or eBook they wrote by inserting a quote and linking back, of course. In doing this, it shows you are keeping up with industry greats and the latest research, which is exactly what I am looking to share with my audience as well! And yes, then I might curate and use your article.
Provide a Link and/or Reference Research – Reference an industry influencer or researcher if relevant, by linking to an article they wrote. In doing this, it shows you are keeping up with industry influencers and the latest industry news and you know how to interpret and apply this information. That's what my readers are looking for as well!
Easy Comment & Sharing System – If I can't leave a comment on your blog without much effort, I won't share it. If I can't share your article without much effort (meaning; I have to go look for the sharing buttons as they are not obvious!), I also will not curate and share your article. Make it simple to comment, simple to share and I will take a second look.
Question: Have you ever gotten a 'major industry leader' to curate and share an article you wrote? Thinking back, what article was it and what do you think triggered the share? If you can figure it out, I suggest you duplicate that type of post! And I have to admit I was giddy for a few hours after Mari Smith shared one of my articles on Twitter!
Happy writing,
Dorien.
Author's Bio: Dorien Morin-van Dam is owner and social media marketer at More In Media, a social media consultancy in Myrtle Beach, South Carolina. Dorien provides social media consulting, management, training and education; she is passionate about teaching social media to small business owners. She services clients all over the USA and has worked in many different industries as well as with several NPO's. In her spare time, Dorien manages four kids, three dogs and a husband. She runs marathons and loves to bake, travel and read.