Imagine the Power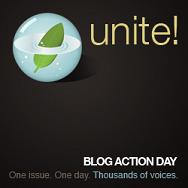 Do you know about Blog Action Day?
The countdown has begun to October 15. On that day every blogger who participates will be writing something related the environment and keeping it safe. Each blogger will address the topic in his or her own way within the context of his or her own blog.
The cool part is everyone will be posting on the same day . . . October 15th!
To quote the organizers
Blog Action Day is about MASS participation. That means we need you! Here are 3 ways to participate:
. . . . What would happen if every blog published posts discussing the same issue, on the same day? One issue. One day. Thousands of voices.
Click the logo above to get more information.
–ME "Liz" Strauss
Work with Liz!!