I Found One and Took It Back

If you go to a blogger meet up that involves more than yourself, you're likely to find at least one camera in the group. Actually it could be two, couldn't it?
Cameras of every sort were in use at BlogWorldExpo. A camera or two got pointed at me now and then. I even found one on a bench left behind when designer, John T. Unger, headed off to a session. I returned it even though I think I might have been the only camera-free person at the entire event. It turned out that the camera belonged to John's friend — Well actually it belonged to the man's wife. So a husband and a camera united in Las Vegas might have helped save a marriage. Now that's something you don't get to say every day. Yeah!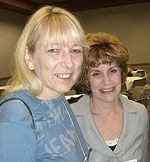 This shot of Toby Blumberg, the famous Marketing Diva, and me was taken by Andy Wibbels. Imagine this — he lives within walking distance of my living room, but we had to go to Las Vegas to meet. It's a bloggers' shame . . . don't you think?
Toby and I also ended up in a video shot by the handsome Shel Israel with his new video cam. As Toby and I discussed bloggers, Las Vegas and Shel's equipment, Jim Turner and Tris Hussey hid their heads in their hands. I'm sure that their red faces were caused by their own outrageous laughter. Shel made the comment that Tris could be Andy Rooney. I sort of think Tris could lead about 43 double lives if he cared to.
Toby, Robyn Tippins, Steve Broback and I also got caught by Deb Weil's video cam.
If you head on over to Brian Solis' Blog bub.licio.us, you'll get to see other folks I got to see while I was there. Sim from Utterz is an intelligent, engaging guy with a great new product. Chris Brogan, Robyn, Jeremiah, and Stephanie look great. Stephanie was the elegant host of a fine party the evening before. Thank you, Stephanie for your hospitality.
I didn't meet Matt Colebourne until the next evening, but he's there in the pictures as well. I sure enjoyed the time we had when we did get to talk. It's not often that a conversation on music goes quite as far reaching as ours did.
Robyn and I met up with Brian Solis and Frank Gruber after the pajama party. If you look, you'll find both of them in the pictures. Frank's always a friend in a crowd and a pleasure to see. Meeting Brian for the first time was a smile of the mischevious sort. We found that we have people and thoughts in common — no further comment on that, only a grin. Robyn, Frank, Brian, and I actually talked business as well as blogging. It's okay, no one was listening in.
More on the people of BlogWorld Expo to come . . . Part 3 is next.
–ME "Liz" Strauss
Work with Liz!!