Gini Dietrich is on a mission.
She is aiming to shift the practice (and then the perception) of the public relations profession, one mind at a time.
It's a tough row to hoe, when we are inundated daily with reports of sneaky native advertising, journalist fakeouts, and "astroturfed" social content, much of it generated by so-called PR pros.
But Gini and the Arment Dietrich team represent the good guys, and in her new book, Spin Sucks: Communication and Reputation Management in the Digital Age, she explains exactly how communications, PR and media relations can be done with integrity and still get stellar results.
In fact, the tectonic shift is taking place everywhere. Power that used to reside in the hands of a few gatekeepers is now democratically spread out to the masses. You can no longer spray out a press release to a purchased list of emails and hope for the best. In a strange way, the digital tide is forcing us to hone our storytelling craft by taking away the crutches we used to rely on. Spin Sucks is full of real stories of success and #FAIL, told in Gini's down-to-earth style.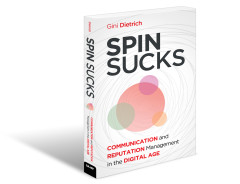 I strongly recommend this book to anyone who is running a business (large or small), regardless of whether you're working with an agency or doing it guerrilla style. If you are working with an agency, this book will give you a great baseline knowledge of an integrated marketing/communications/PR/media relations strategy. If you're going it alone, use the book to experiment and be successful enough to hire a team of pros.
Key Takeaways from Spin Sucks
Be a storyteller, not a spinner.
Content creation is a long-term strategy, not a quick fix.
Create assets that reflect a mix of paid, earned, shared, and owned media.
Be honest and transparent in your dealings with the public; manipulation will backfire.
It's time to stop working with content farms, scrapers, and plagiarists.
Get comfortable with the fact that your customers are really in control of your brand.
Learn to say "I'm sorry" with no embellishment or caveats.
The best way to repair online reputation is by overwhelming the negative content with your own great, useful, customer-valued content.
If you want to be prepared for the future, stay tapped into all of the disciplines that make up marketing communications…the lines are getting blurrier and blurrier.
What's your best communications "war story?" Have you had to deal with a communications crisis?
Disclosure: I was given an advance free digital copy of this book for review purposes; however that in no way altered my opinion or the content of this review. My personal story of guerrilla digital PR is mentioned in the book.