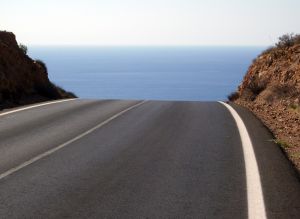 about the rules of the road that make life flow more easily.
I'm not much for rules.
My husband says "Please don't tell her 'Don't touch.' She's just like our son — if you do, then she'll have to."
But some rules make sense, like those that keep folks safe as we move in traffic. The rules of the road I've learned are simple to share, but often hard to remember. I'm thinking I should write some down now. . . . before I forget them again.
Before I set off, it's good to know my destination or at least what direction I have chosen. I know I'll constantly be making corrections, be stopping at times to make sure the plan is still a good one.
I need fuel to keep going. . . .
I need to know whether I'm good at mapping the trip, navigating, or making the journey happen. Hardly anyone is good at all of that. That's why I need a few hearty traveling companions. The joy of sharing the experience, the people we meet, and the stories we make is the return on the investment..
It doesn't slow me down when I stop to let someone go first. More often than not something good comes of it. I don't get where I'm going any later.
When I drive extreme, I can't pay attention to the details on the way there.
When I think I own the road, people act as if they agree, but they don't. And they don't see what I want them to see. They see me acting as if I'm important. In other words,
. . . when I think it's about me, it's not . . . It's about them — what they need. Then I think it's about them causing a problem, it's not. . . . It's about me –thinking I'm something special.
I don't need a car to know the rules of the road — or the value in them. Even crossing the street, I know it's best to look both ways first and to hold someone's hand if I can. It makes the trip easier and adds to it.
And the road itself can take me anywhere I want to go.
What do you know about the rules of the road that you're on? . . .