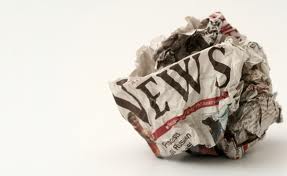 A negative news story or bad review — in print or online — is almost inevitably a cause for alarm in a business owner's life. Bad PR, whether justified or not, can cut into a company's sales volume and ultimately tip the balance from profit to loss.
Although it's hard not to panic when confronted with bad press, business owners should guard against that reaction at all costs.
Panic will do nothing to address the matter and could keep the company from taking timely steps to reverse or undo the damage from the negative publicity.
So, what are the steps to undertake when this situation occurs? Among them:
Evaluate Report
The first step must be a careful evaluation of the news story or online posting that is the cause for concern.
Is the report accurate? Does it make valid points about a product's failings? A restaurant's service?
Or is it a malicious — and unfounded — attack on the business? No matter what the report's origins, steps can be taken to undo the damage. It may take time, however.
Although lashing out in anger may very well be the business owner's knee-jerk reaction to bad press, this is almost certain to appear defensive and may only exacerbate the public relations nightmare that bad press can cause.
Although it's essential to cool down before responding to bad press, a timely response is essential. It's unwise to let too much time elapse before making a reasoned response, preferably in the same medium in which the negative report first appeared.
Own Up to It
Hopefully, a careful analysis of the negative report has determined whether it is justified or not.
If the criticism implicit in the report is valid, then the business owner must take responsibility for the product's flaw and pledge to correct the problem before the product returns to the market. Owning up to a company's failings and pledging to make things right tends to humanize the business and create a more favorable impression on the public.
In the event, however, the report is inaccurate, the business's response should contain a calm and rational defense of the product or service in question.
If a news story is the source of the bad press, an attack on the reporter is senseless and, once again, comes off as uncomfortably defensive.
Reporters are human too and sometimes make mistakes, including failing to solicit comments from the subject of a negative story before the article is printed.
Gray Areas Exist
Not every instance of bad press can be subjected to a definitive analysis of right or wrong.
A restaurant review that suggests bad service or under-cooked food on the night the restaurant critic visited is virtually impossible to refute.
In a case such as that, the restaurant owner is probably best served by acknowledging that lapses in service and quality occasionally occur and by promising to do everything possible to avoid them in the future. Getting into a war of words with a restaurant critic only tends to call greater attention to the original negative review.
To help bolster a business's ability to withstand negative publicity, business owners should work tirelessly to strengthen the power of their brands.
If the brand of a product or service strikes a strong positive vibe in the minds of consumers, it is better able to survive an instance — or prolonged assault — of bad press.
Solid Brands Weather Storms
Toyota, Ford, Tylenol, and countless others have been subjected to long-running struggles with negative publicity, some of it justified and some not, but so powerful were those brands that they emerged pretty much intact, if a bit battered.
It is, of course, unrealistic to expect small business owners that operate locally or regionally to attain a brand recognition comparable to these multinational giants. But consistent product and service excellence can establish a strong brand, if only in a somewhat smaller marketplace.
And a strong brand helps a company to survive negative publicity with little, if any, lasting damage.
Photo credit: zdnet.com
About the Author: Jay Fremont is a freelance author who has written extensively about personal finance, corporate strategy, and Amerisave.