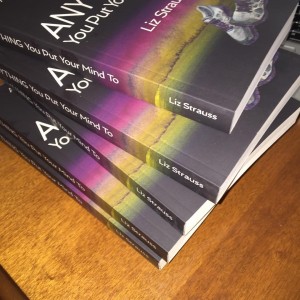 GeniusShared Press is excited to announce that the paperback version of Anything You Put Your Mind To by Liz Strauss has been released early! You can be one of the first people to hold Liz's incredible new book in your hands by ordering today!
---
Anything You Put Your Mind To
An adventure in remembering
we decide the stories
that decide our lives
by Liz Strauss
with Foreward by Jane Boyd, Story Editor
---
What People Are Saying . . .
In Anything You Put Your Mind To, Liz uncovers one of the great secrets of success in both business and life: the potential of narrative to forge one's own path. People underestimate storytelling, but its power is infinite: the stories we tell ourselves constitute our reality.
With verve and clarity, Anything You Put Your Mind To brings home the importance of reconnecting with our stories, and demonstrates how anyone can follow Liz's lead and bring direction back to their self-narratives. The verities of this book–that the roads to every kind of both success and failure start inside our own heads–are striking, challenging, but ultimately liberating. Liz's account is searingly honest and her writing is compelling and lyrical. I loved how she skillfully manifests the clamoring forces we all internally wrestle with on a daily basis. Larry and the dog, the central characters of the book, are rendered with the weight and force of a fable. Every last word is heavy with the power of Liz's personal investment in her vision. No one else could have written this book.
Anything You Put Your Mind To will benefit anyone who wants to tell themselves better stories; that is, anyone who wants to change their life. Knowing which of our narratives to discard, which to alter, which to champion–this is the road to so much of what we call prosperity. This book is rich with the hard-won wisdom of one who has walked this road, and returned to tell the tale. Start reading. Now.
— AJ Leon, Founder of Misfit and author of The Life and Times of a Remarkable Misfit
There is no one like Liz Strauss. Liz is living insight, jumping over boundaries. Conversations with Liz are legendary for dizzying changes in perspective, unexpected connections, and bright ideas. This book is like a conversation with Liz, only portable. And more intense.
— Becky McCray, Entrepreneur and author of Small Town Rules
Liz Strauss is a world-renowned storyteller, so it is only fitting that she would use stories as both the framework and roadmap to help you to achieve success and everything that you want out of life. Whether you are an entrepreneur, a busy professional, or someone who's just asking, "what's next," Liz's unique, humorous, and insightful parable provides the perfect inspiration.
— Carol Roth, Billion-dollar dealmaker, Judge on TBS's America's Greatest Makers, and author of the New York Times bestseller The Entrepreneur Equation
Liz Strauss shares stories that illuminate who she is and at the same time will help you understand who you can become. This book will twist, bend, and batter your reality and that's a good thing. All of us need to make great leaps in our mind, and yours will start when you read the first chapter.
— Tim Sanders, Author of Love Is the Killer App: How To Win Business and Influence Friends
It would have been easy for Liz Strauss to pump out a business book. Or an inspirational book about conquering cancer. Or a series of ebooks on social media marketing.
Instead of taking the expected path, Liz zigged when she might have zagged. She's written a beautiful, jaw-droppingly original story that calls to mind Og Mandino, or perhaps Gabriel Garcia Marquez.
Her unique and incisive perspective shines through, hitting the reader right between the eyes by becoming fully vulnerable. If you've ever caught yourself "hiding in your thoughts," looking for human connection, or seeking to be understood, this book will become a treasured keepsake.
You'll understand what I mean when you read it. And you must read it.
— Rosemary O'Neill, Co-Founder, Social Strata
"Wouldn't that be cool?" Whenever I'd hear Liz Strauss utter those words, I knew I had just been given a gift from a dear friend–a tiny but yet oh so significant tidbit of wisdom that had been processed, analyzed, and delivered from one of the most brilliant minds I have, or will, ever encounter. So it was with great anticipation and pleasure that I dove into Liz's new book, Anything You Put Your Mind To.
It's a book that reveals the emotional and personal heart of this "65th Crayon"–a poignant and unflinching glimpse into a fertile and wondrous imagination, revealing rich textures of insight, wonder, and in the end, many simple truths we can take with us to guide and instruct our own lives.
She takes us on this personal journey with her "time machine"–a rich musical and lyrical accompaniment, a library of touching stories from her childhood, and two special friends–Larry and the dog.
And, there's the sky, where Liz gazes up and finds her place and part in the universe. The truths that she so eloquently notes ultimately leads to a larger life lesson–the way to find yourself is to look back, AND up–and just BE, with child-like curiosity and a reflective innocence.
Experience this wisdom yourself by reading this wonderful story, and then embark on your own journey of personal discovery. Wouldn't that be cool?
— Terry St. Marie, Portland, Oregon
A seemingly simple awakening of personal growth–set in modern day. Readers will meet the woman who is an "everyman": successful but unsure, loving yet controlling, happy and unbalanced, as well as righteously hypocritical. She is we.
The writer's distinguished intelligence and prose tell us her story in a wax-on, wax-off parable that is rich with clever insights and self-deprecating humor, which beckons the reader to relate and then question our own place in this world. All this is accomplished with introduction of a mysterious character named Larry and his dog.
As a reader, I cherished each word and chapter. This is a book you take your time with because, just like the main character, you will have to stop, pause, and listen to your inner voice. That voice might be telling you to address your buried Freudian issues, learn self-love, as well as how to give and receive, before you can enjoy your success.
Anything You Put Your Mind To will become the contemporary life-lessons business allegory for the 2010s; just like The Alchemist and The Legend of the Monk and the Merchant were for the late 90s and early 2000s. I will regularly pick this book up, again and again, to reread chapters, especially Liz Strauss' explanation of the "65th Crayon." I highly recommend this book for anyone who thinks they might be stuck, or who thinks that they already "have it all," or maybe they just want to reach further in their career.
—Jon-David, Author of 9 Amazon ebooks, and a world-leading social media expert in the Salon Industry
It doesn't take long to recognize the truth behind Liz's recommendation, "Be curious about everything." In this dazzling, rippling adventure tale we are given the ride of a life. The secret ingredient propelling this story of stories is the thirst for knowledge driven by an unquenchable curiosity. Ever questing, Liz offers us a path to reflection and self-understanding both accessible and divorced from the step-driven, self-help of the past.
Through Liz's passion, her vision, and her unbridled willingness to explore we are offered a model for making and remaking ourselves. For those who know Liz and her work, this is a welcome glimpse into "the Way of Liz" and offers revelations and surprises of all sorts. With wit she disarms and with wonder she instructs. All you have to do is keep up with this Alice in the wonderland that is her imagination.
— Andrew [Drew] Marshall, CEO, Primed Consulting, LLC
The best stories let you get lost in them and come out with new insights and actionable ideas; Liz creates that journey for you with this book.  Liz has been an amazing friend and mentor for almost 10 years and I know that conversations with her can stretch your mind and open your eyes to opportunities you would have never seen otherwise.  The sooner you read this book the sooner you can begin to live your new, exciting life stories.
—Mark J. Carter, Founder of ONE80 and creator of Idea Climbing™
About Anything You Put Your Mind To
In Anything You Put Your Mind To, master storyteller Liz Strauss hooks us into an adventure of remembering that we decide our future. We discover that by deciding the stories we believe about ourselves we decide our lives. Strauss offers a fresh energy and approach, bringing something new to the topic and keeping us engaged. Along the way, she offers snippets of insight and wisdom on the human condition that take us beyond the theme, helping us find "our own normal," and making the experience memorable worth returning to again and again.
Alice, a quirky, intelligent, and outright funny book editor, who is on quest because her job isn't working for her and she has "edited out" the rest of her life. She's seeking out a new purpose by going "running" through her mind, revisiting stories she believes about herself to get her back to a life she wants to live. While running through her mind, she meets two strangers — a guy and his dog — who already seem to know exactly who she is. Who are they? How did they get in her mind? They join Alice's quest, asking questions, lending support and compassion. Will these two, seemingly invented, characters give her the clarity she needs to find her way or send her on a trip through Wonderland? And where does the Lone Ranger fit in all of this?
Authored by Liz Strauss
Designed by eBookDesignWorks.com
Foreword by Jane Boyd
Drawings by Jackie Lea Shelley
Cover design or artwork by eBookDesignWorks.com
Consultant editor Richard Balkwill
General editor Jane Boyd
Edition: First Edition